Today started with a small hangover. Headache and a sore throat. After some sips of water however, it quickly vanished and it was time for breakfast.
After finding out that the breakfast was served outside the hostel and not inside like B. and me thought at first, we got to enjoy a croissant, some coffee and a bun with jelly plus a yogurt. That's cost-effective and tasty 🙂 After breakfast I took a quick shower and than it was time to say farewell. I headed to the train station, while B. prepared to continue by bike.
At the station, I asked for a reservation for the train to Barcelona and they actually had some available. The train was punctual and the next chapter of my journey began without any problems.
Once seated, I started to get some more work done on my laptop. My goal was to get the prototypical certification implementation going, so I could start cleaning up the code. There were fewer changes required than expected, so I could quickly get started refactoring away. Meanwhile the train rushed over mountains and hasted through tunnels.
When we arrived in Barcelona I first thought it was raining heavily, since the outside of my windows had been dark and grey for the last two stops. Only then I noticed that actually we had been underground for some time. I left the train and walked to the exit, where I was greeted by the sun.
My first impression of Barcelona was that of a Jungle made from City. Houses were standing tightly packed and reached high up in the sky. When it felt like Paris was arrogantly ignoring me, now I felt like Barcelona was the entirety of the Jungle's wildlife, not taking notice of me for now, but ready to attack at any moment. It wasn't that I was feared or anything, but there was some feeling of tense excitement.
When I reached the hostel I had picked out during my train ride, they unfortunately told me they were already booked out. But they referred me to another hostel of the same brand, some 20 minutes away. This one fortunately had one(!) bed available. I booked for 2 nights, as the city is so big that it will surely take more than a single day to explore even a fraction of it. I stowed away my backpack and then headed out.
Having spent a week in France, I had to re-adapt my muscle memory when it comes to the language. Suddenly I had to go from French which I learned some years ago in school, to Spanish which I had taken a class for in university not long ago. More than once I accidentally greeted people with "Bonjour".
Most of Barcelona's city is aligned along a grid. You can follow a street for kilometers, while the same pattern repeats: Big houses left and right with wide space between for walking or streets, then a crossing and every now and then a street in a 45 (or 35?) degree angle.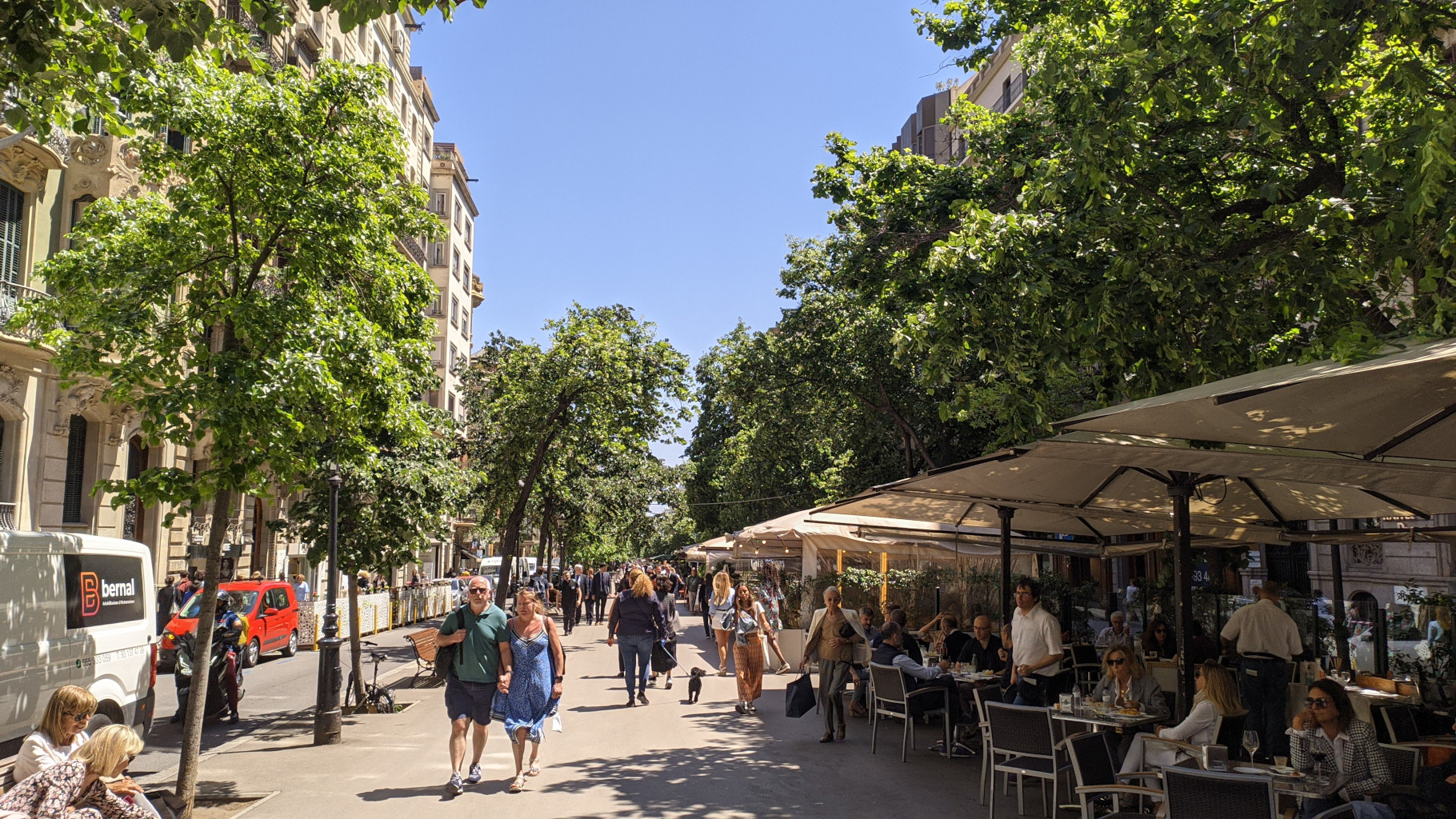 The first point of interest I visited was the Sagrada Família. Unfortunately I could not visit from the inside and also not go to the roof, as the booking process was using an app (which did not work for me), or alternatively using a credit card (which I don't have, I only have debit) 🙁 I will try tomorrow to get hold of some tickets in some other way. Maybe one can buy them in some tourist office?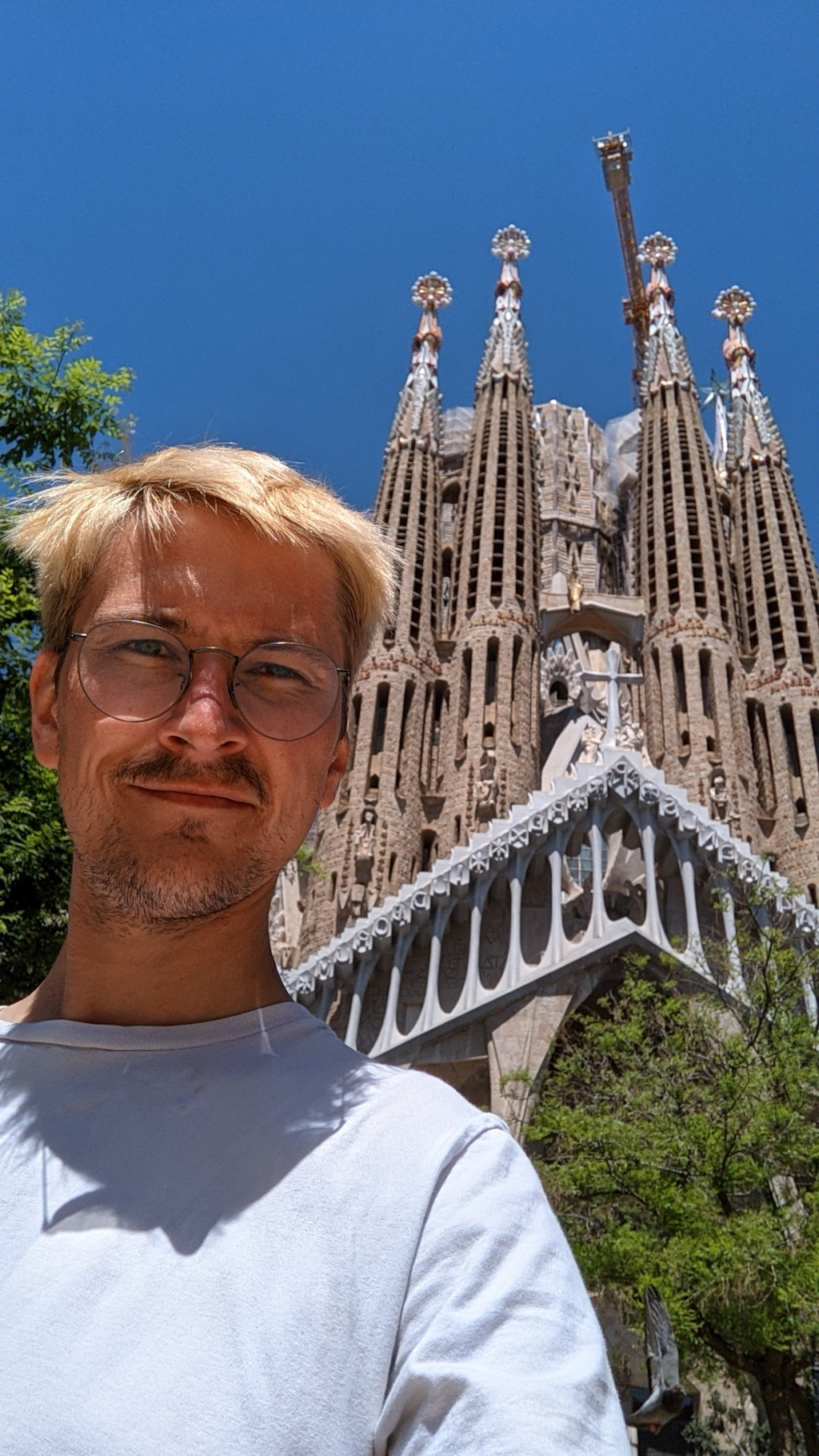 After this semi-disappointment I went to the historic part of the City, the Barri Gotic. While, as I described, most of the city is aligned to the grid, the historic part is not. There is a hard cut and then the houses suddenly stand much closer, the narrow streets are bent around corners and the facades of the buildings seem to lean in towards another. The stark contrast makes it even more beautiful.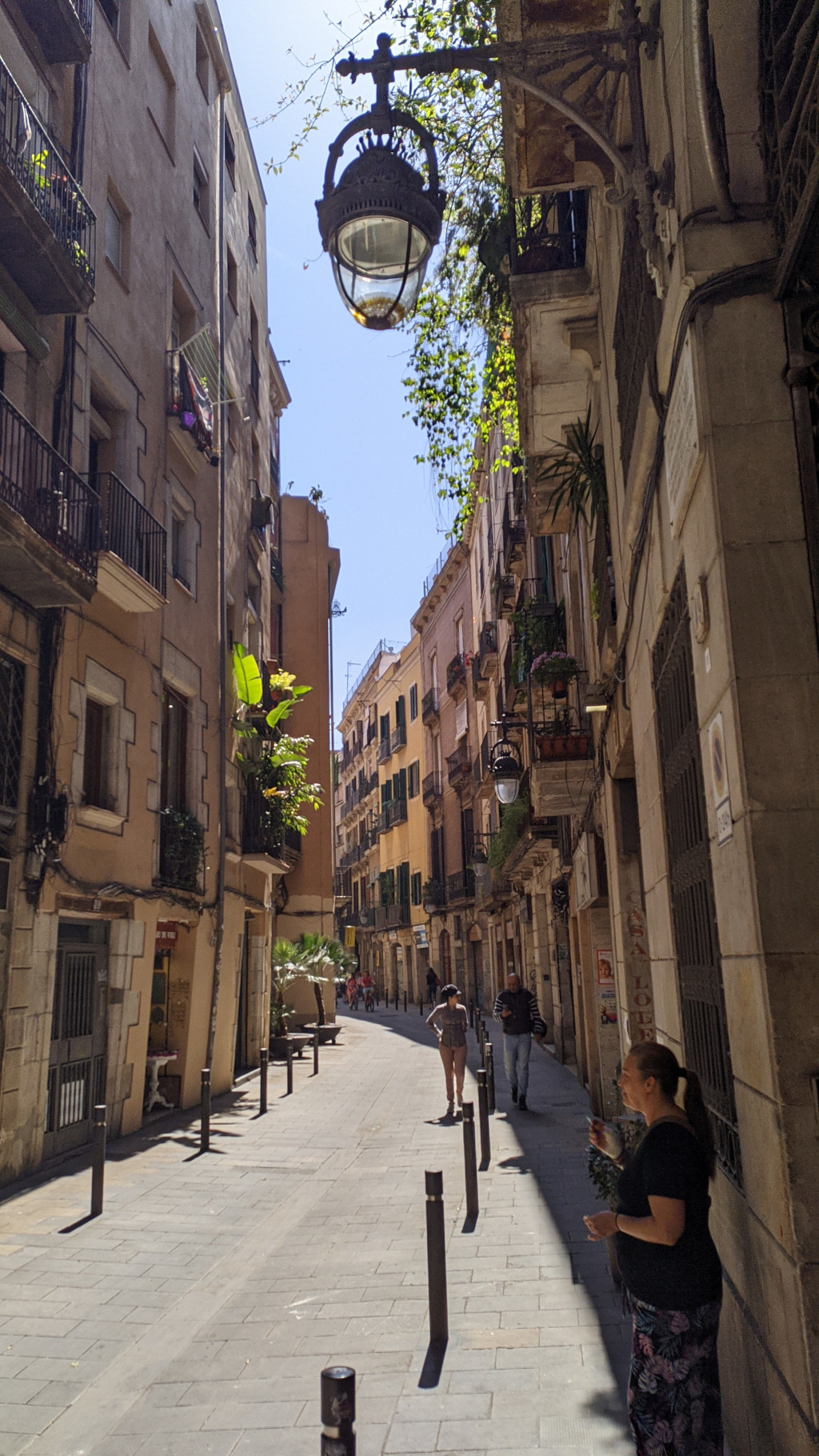 There are small, dark alleyways branching off the "main roads". Here the houses stand so close that you wonder why they even bothered to add windows.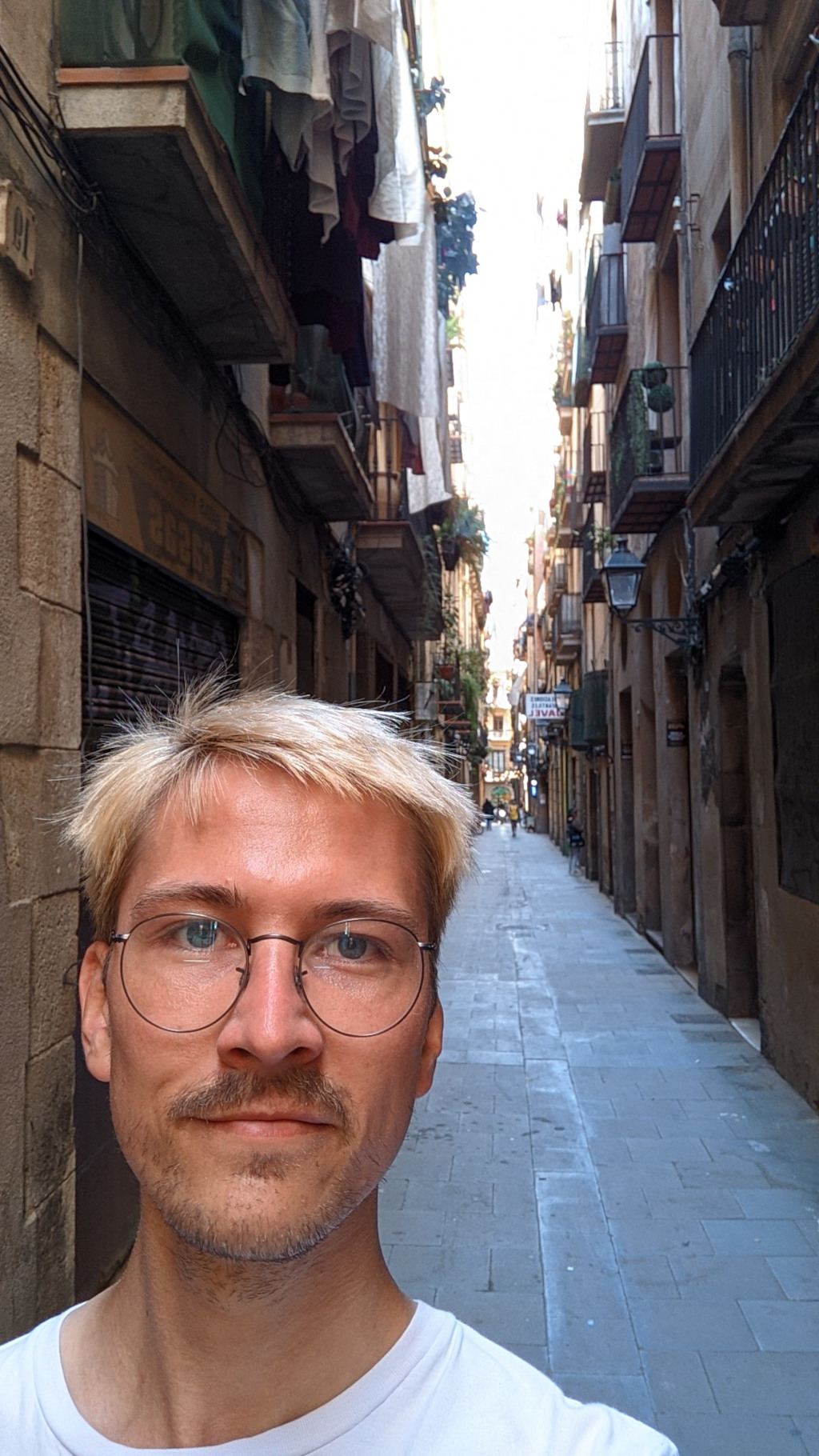 Through this maze, I eventually reached the cathedral of Barcelona, a big church where you can visit the roof to get a nice view of the "skyline" of the city.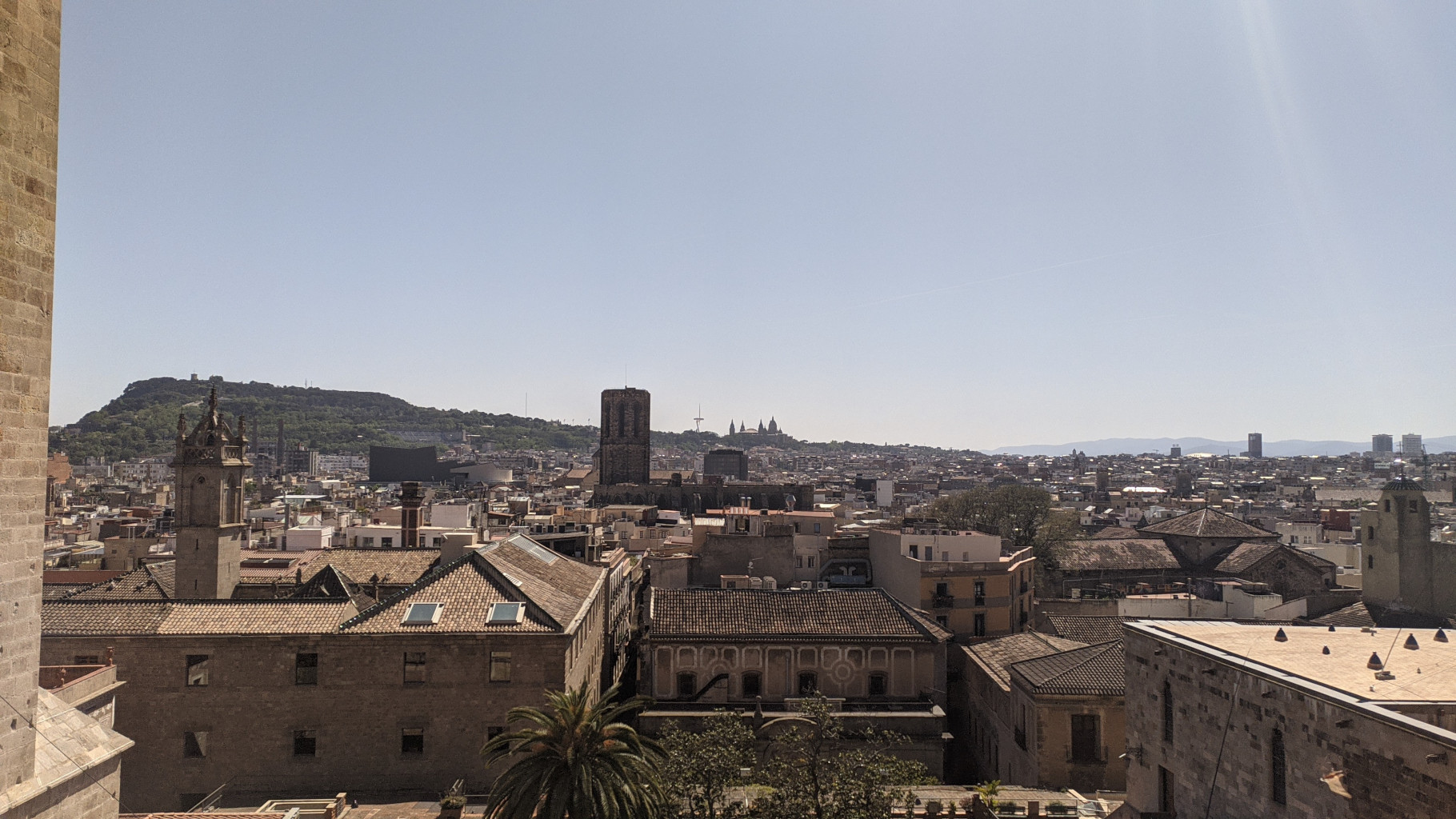 From the roof I could spot my next target. At the port area there was a tower from which a cable car was spanning across hundreds of meters to the bottom of a mountain. Originally I thought it was going all the way to the summit, but later found out that there were two distinct cable cars.
I walked all the way to the port and got into the queue for the cable car. When it departed, I got an excellent overview of the city. Unfortunately the photos I took by no means do justice to the experience.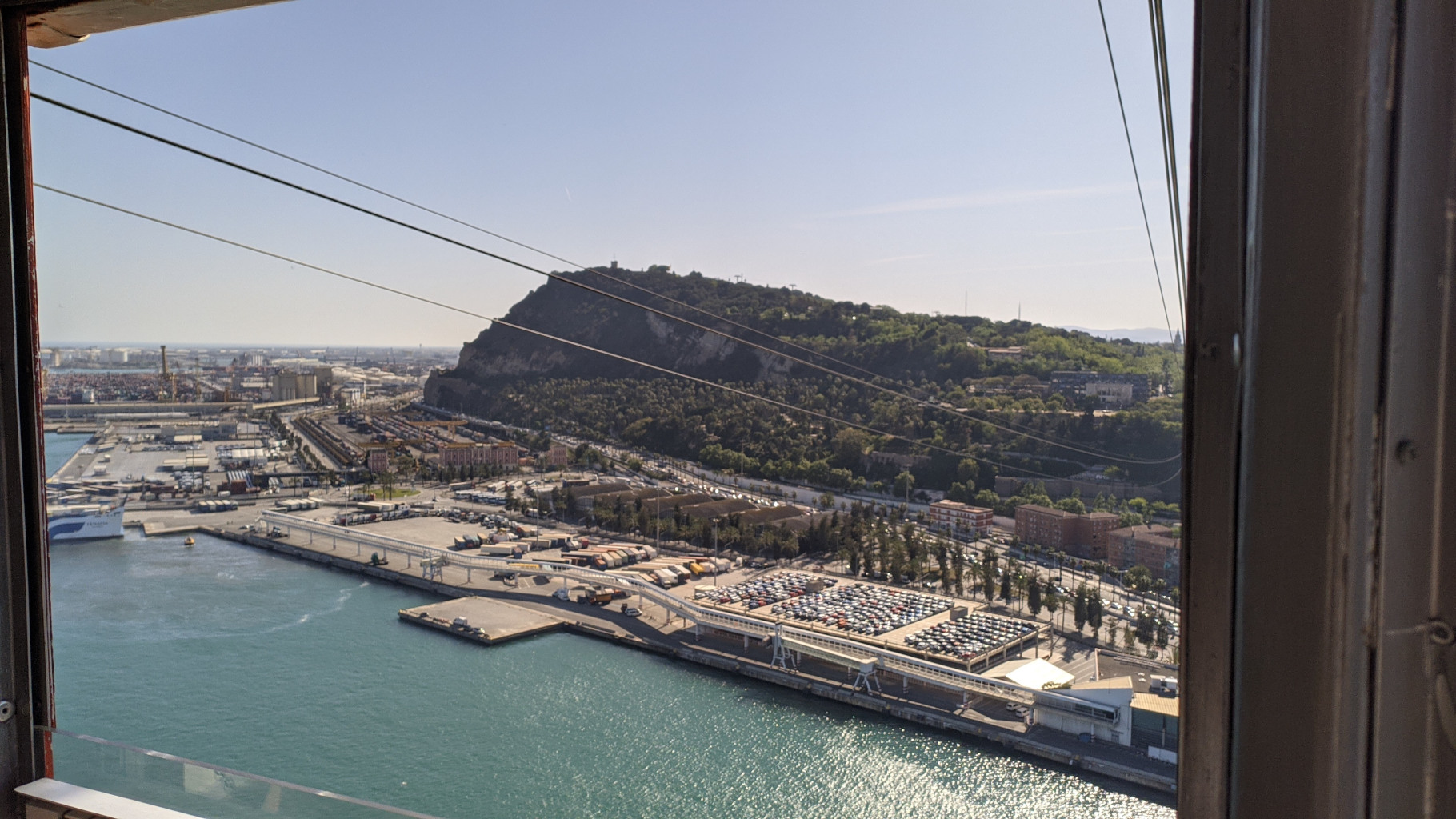 Off the cable car, I had a few hundred meters left, climbing a steep road all the way to the summit of the mountain. On the way I passed some nice, luxury hotels (the kind you know from James Bond movies), and beautiful parks. There even was a waterfall!
At the summit was a castle, which unfortunately you'd have to pay to visit, so I passed and instead walked the pathway around the castle to get a nice view into the valley and onto the ocean. While the view was breathtaking in person, my photos turned out generic, so I will spare you the photos.
My feet were hurting as hell, so I decided it was time to go back to the hostel. On the way back I came across a big market building which I will check out tomorrow. I also got recommended to visit some market space, but I am not sure if this one was it. We will see.
What I noticed in France, but especially here in Barcelona is that pedestrians take red traffic lights only as a recommendation. People mostly don't wait for the light to turn green, but instead start pouring onto the street as soon as it is apparent that the last car passed. This goes against my inner German, but I'm slowly adapting. What doesn't kill you may honk.
Now its time to give my tortured feet some relief and to let the day slowly fade away. Buena noche.