While I am typing this, I am already on the train to my next stop, so bare with me while I'm trying to recall all what happened yesterday.
I had mistakenly assumed that my hostel stay would include a breakfast, but instead I was presented with a community kitchen where guests would cook food for themselves. So hungry as I was my first stop was the local Supermercat to get something edible. Being a simple man however, I resorted to cheap instant noodles which back at the hostel I could prepare with water from a water cooker.
I felt a bit cheap compared to the other guests who were preparing full-on meals with avocado, rice and eggs, but this was inexpensive and quick which was important, since I was going to have a video call later the morning.
After the call I took my time watching some Youtube video to finish my meal. Afterwards I asked another guest where to find the dish washer. To my surprise she answered me in German. Turns out she had seen the title of the video I watched earlier. She introduced herself as M. and explained she was from Germany as well. The world is small. M. offered me some of her coffee and explained that later she wanted to go on a club crawl, but she would not have found a non-sketchy offer yet. Then it was time for me to head out to the city. I wished M. a good day and left the hostel.
My plan for today was to further explore the historic part of the city, as well as the Mercat la Boqeria. The best way I can think of to describe the later is that it looks like the hall of a train station, which hosts a permanent funfair, which however only consists of food stands selling weird food. There are stands selling mushrooms, raw fish, crustaceans, ox feet, sweet bakery pieces, all sorts of fried street food, chips, etc. It smells horrible in some places (in my opinion), but its also quite a spectacle.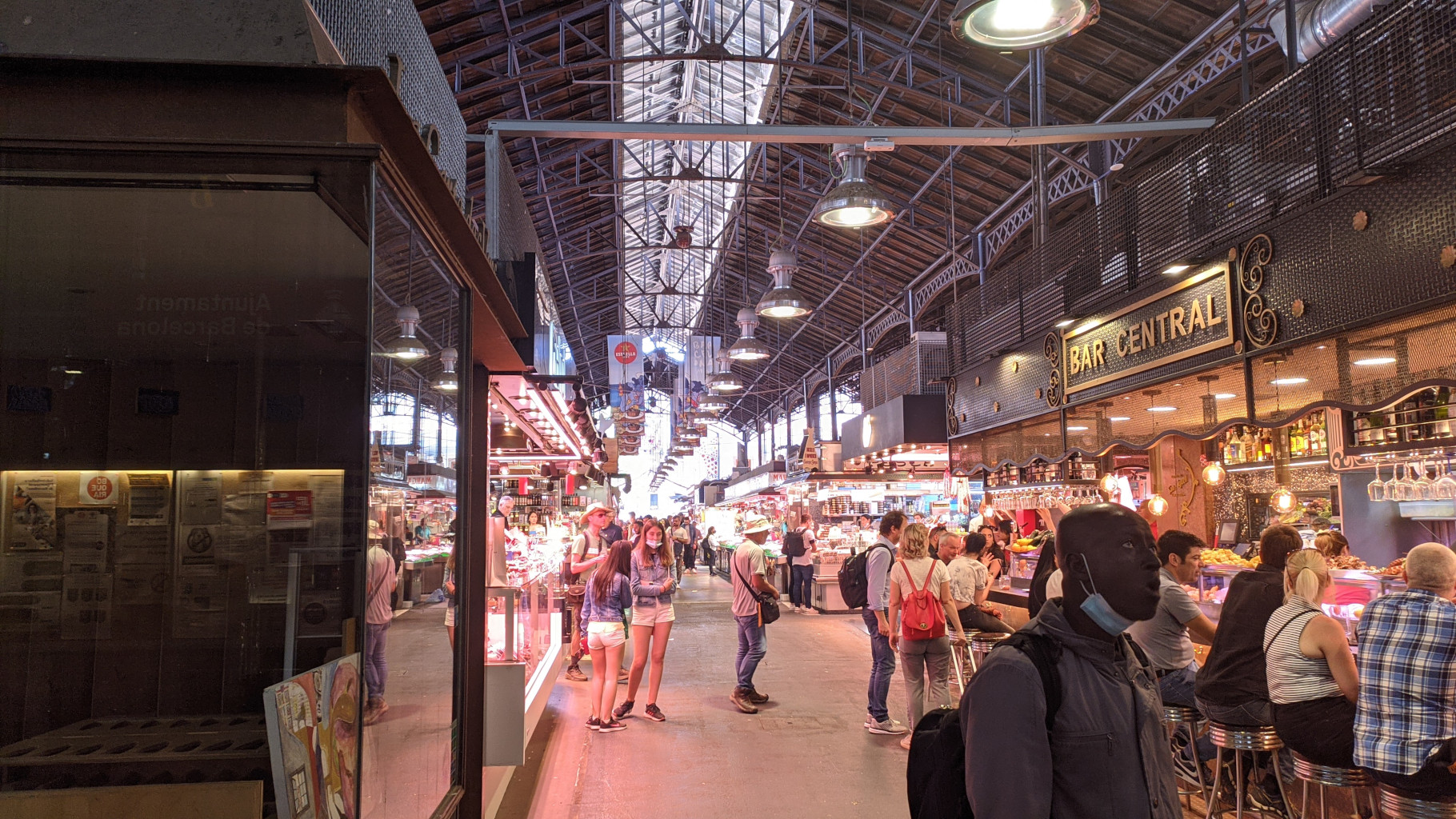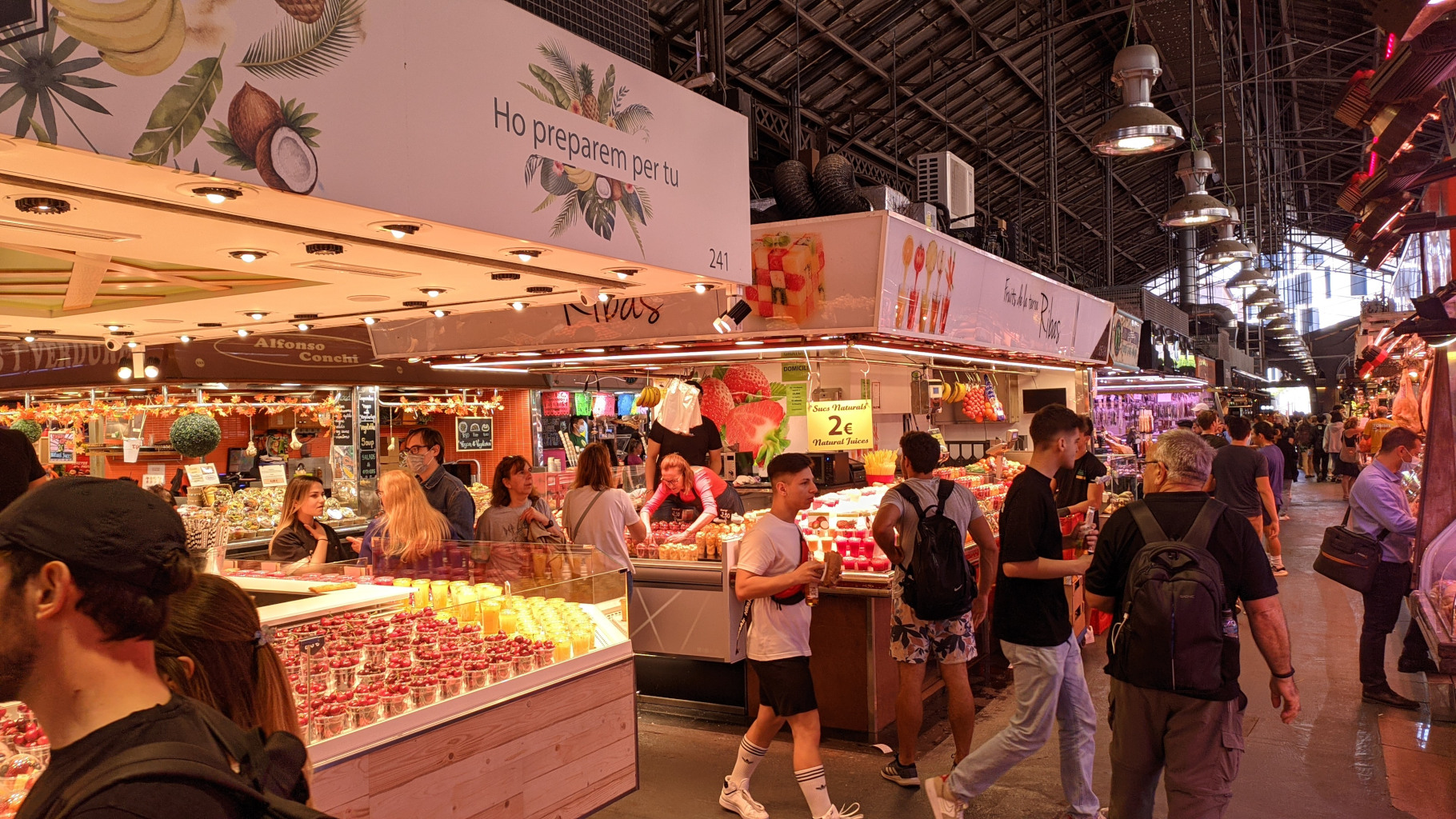 Afterwards I strolled down the La Rambas, Barcelona's busiest street. I wanted to go the beach next. The hostel personnel actually had advised me not to go there since it was ugly, but I did not care. Sure, it wasn't the nicest beach I had ever been to, but I just wanted to relax a bit, sitting in the warm sand. There were lots of merchants patrolling around, announcing they had beer, water, blankets and scarfs for sale. It was a bit annoying, but I guess it is part of the experience.
After an hour or so, I decided I had enough and went back to the hostel. There was some work waiting to be done, and I hadn't previously tried the co-working space which had a nice sofa. I also tried to extend my stay at the hostel, but unfortunately they were already booked out for the next days 🙁
Later M. arrived back at the hostel. She explained that she had met some other people who knew some good pub crawl. Unfortunately the provider required reservation and only accepted credit cards. Meh. Eventually we agreed upon a time to leave for the crawl together to met up with M.s friend I.
We wanted to meet up at the Magic Fountain, where at this evening was a show with music and lights illuminating the fountain. I'm normally not into such things, but the atmosphere was great. In addition to the lights of the show, people were shooting blinking toys into the air using slingshots. Those then slowly floated down to the floor again. They were selling these toys to tourists all across the place.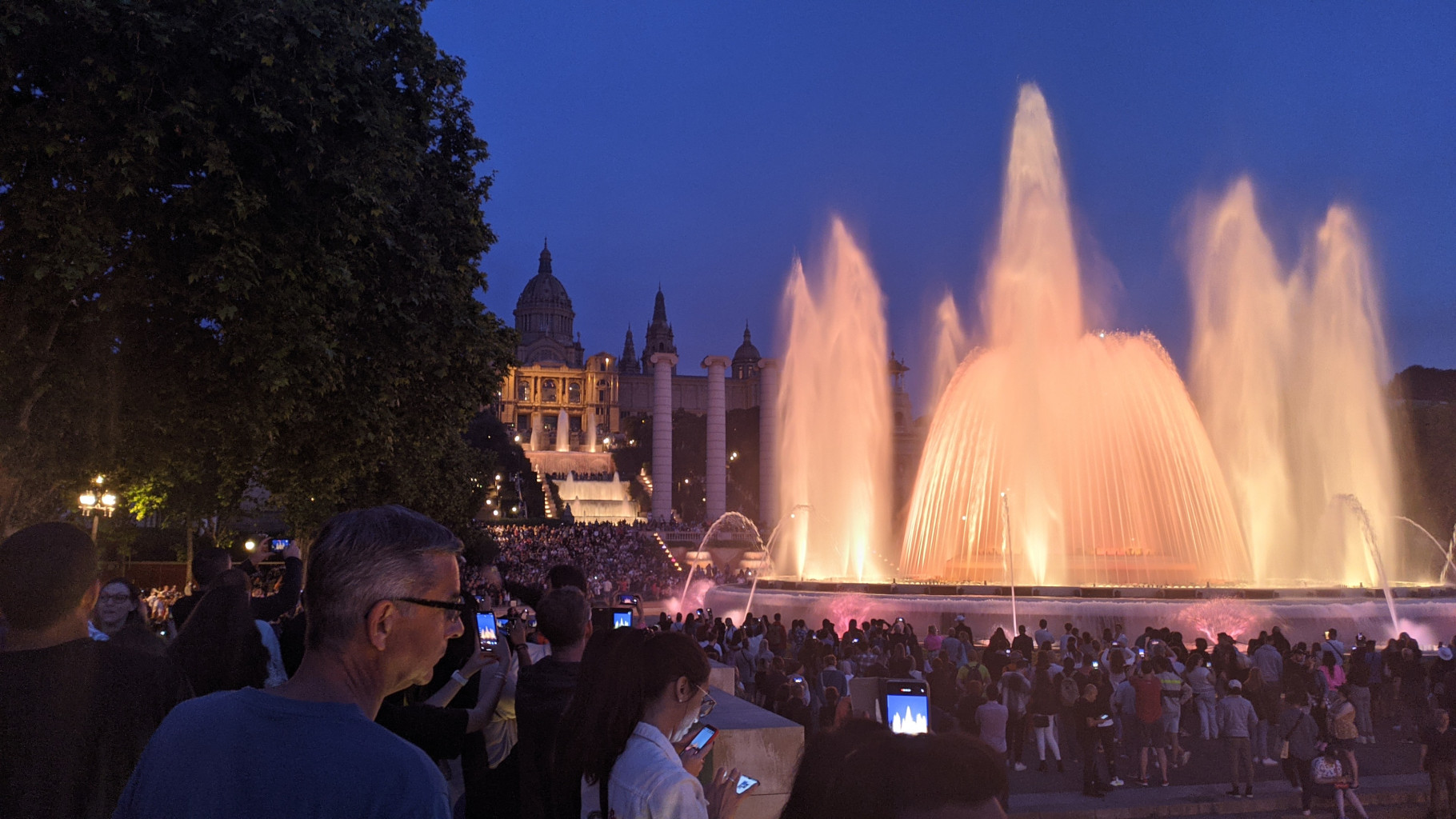 After watching the fountain, we wanted to go to the metro to get to the first pub, however on the way our attention was drawn to a big monumental building on which an animation was projected, along with music. Until today we still aren't really sure what the animation was about. It was something about words of inspiration that were collected from social networks, and about the pandemic. Since there was a timer which was counting down from 7:00 or so, we decided to wait what would come once the timer reached zero, but what followed was an inconclusive clip with a robot voice narrating the animation. And at some point it looped back to the countdown.
We took the train and then arrived at the pub. The organizer told me that I would have to pay in cash to participate in the event, otherwise I would not be allowed to even follow M. and I. Apparently some places had an entry fee which was covered by the ticket price, so I got some money from a nearby ATM and joined the event.
I will spare you of the details, but in summary we went to 4 pubs and bars and later to a club. I would estimate, that my risk of contracting Covid was tenfold higher this evening than it had been the last year. For me the day ended with only 5 hours of sleep, before I would need to check out of the hostel at 11:00 the next day. I now own a wrist-band which quite fittingly reads "I survived Barcelona".
It was a very good evening.