I haven't been posting for a while, simply because I wasn't feeling like it. I'm writing this blog mainly for myself, to later remember what happened, what places I visited and what people I met along the way.
So here is another update.
On the 15th I enjoyed Madrid on my own. I went to the park I had reported on before and tried to work a bit on my laptop. Because I couldn't find my jute bag which I normally use to take stuff like water bottles, my picnic blanket and other stuff with me while leaving the big backpack at the hostel, I only took my laptop with me, meaning I was relying on the availability of park benches and chairs in the park. Sitting on the grass was nice for shorter periods, but even though the grass cushions to a certain degree, longer work sessions would quickly become uncomfortable.
I sat at the table of a small takeaway for a bit and eagerly typed away while some Spanish family was celebrating a child's birthday the next table. Unfortunately there was no shade, so after some time it got tedious and so I decided to go back to the hostel where I stayed for the rest of the day.
The next morning (it was Monday now) I got up early, had a breakfast and then went to the train station to buy a seat reservation for the next train. For some reason I made a small mistake and registered the train at 17:40 in my app though, so my reservation got booked on that date as well. When I noticed, I went back and asked if I can swap the reservation for the train at 11:40. I was relieved when it worked out, so I did not have to wait for 6 additional hours.
When I arrived at Madrid I must have been routed through another part of the train station than when I got the ticket today. I could not remember the booking hall, which in case of the Madrid Atoche train station is filled with tropical trees.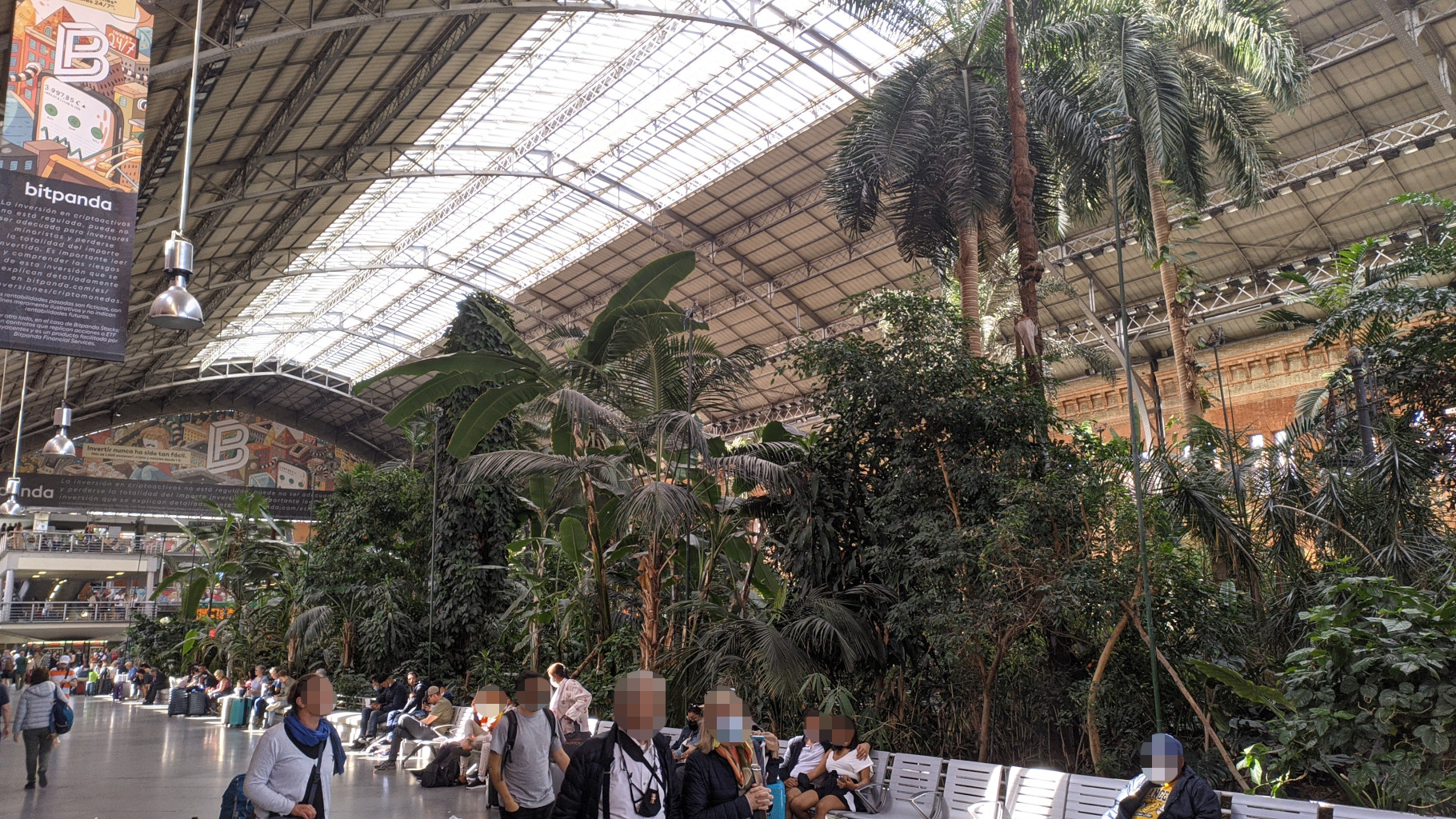 The train route was nice and I did not get any work done whatsoever. Instead I was mostly looking out the window, watching the Spanish hills fly by. And then I arrived in Valencia. I had once again, judging by the map, underestimated the size of the city so my walk to the hostel I had booked took some time, but so I got to know parts of the city.
I came across parts of what looked like the historic core of the city. Yellow stone buildings with delegate decor elements met some Assassins-Creed-esque cathedrals and open plazas with polished marble floors.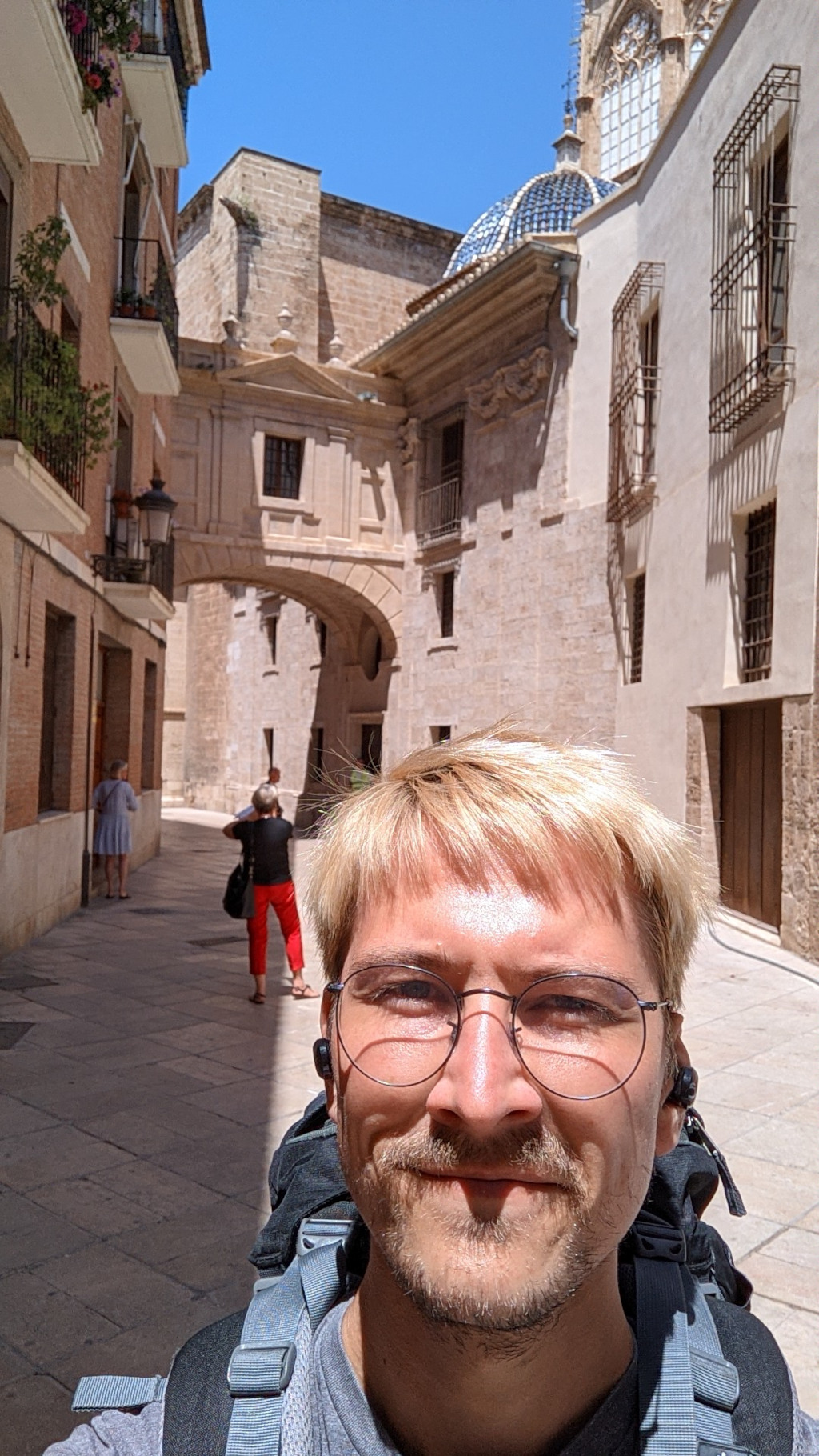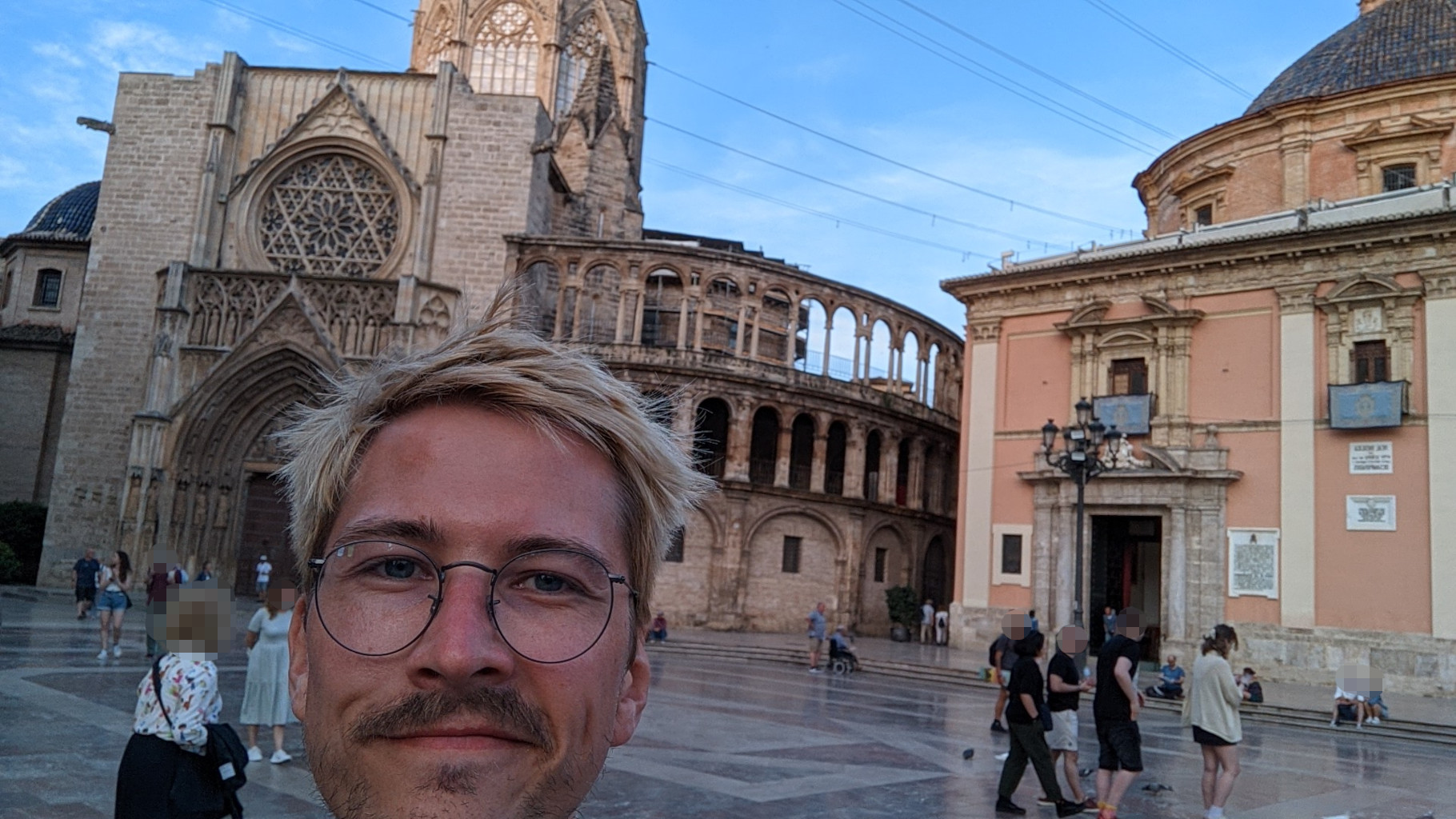 I quickly brought my stuff to my room and then packed my picnic blanket into a packing cube I normally use for clothes. Swiftly I switched my underwear for bathing trunks and then went in direction of the beach.
Again I misjudged the distance, but also the heat of the sun that barely had crossed the zenith, so I was quickly drenched in sweat. On my way I crossed what on the map had looked like a river, but it turned out to be an elongated park with bridges built over it.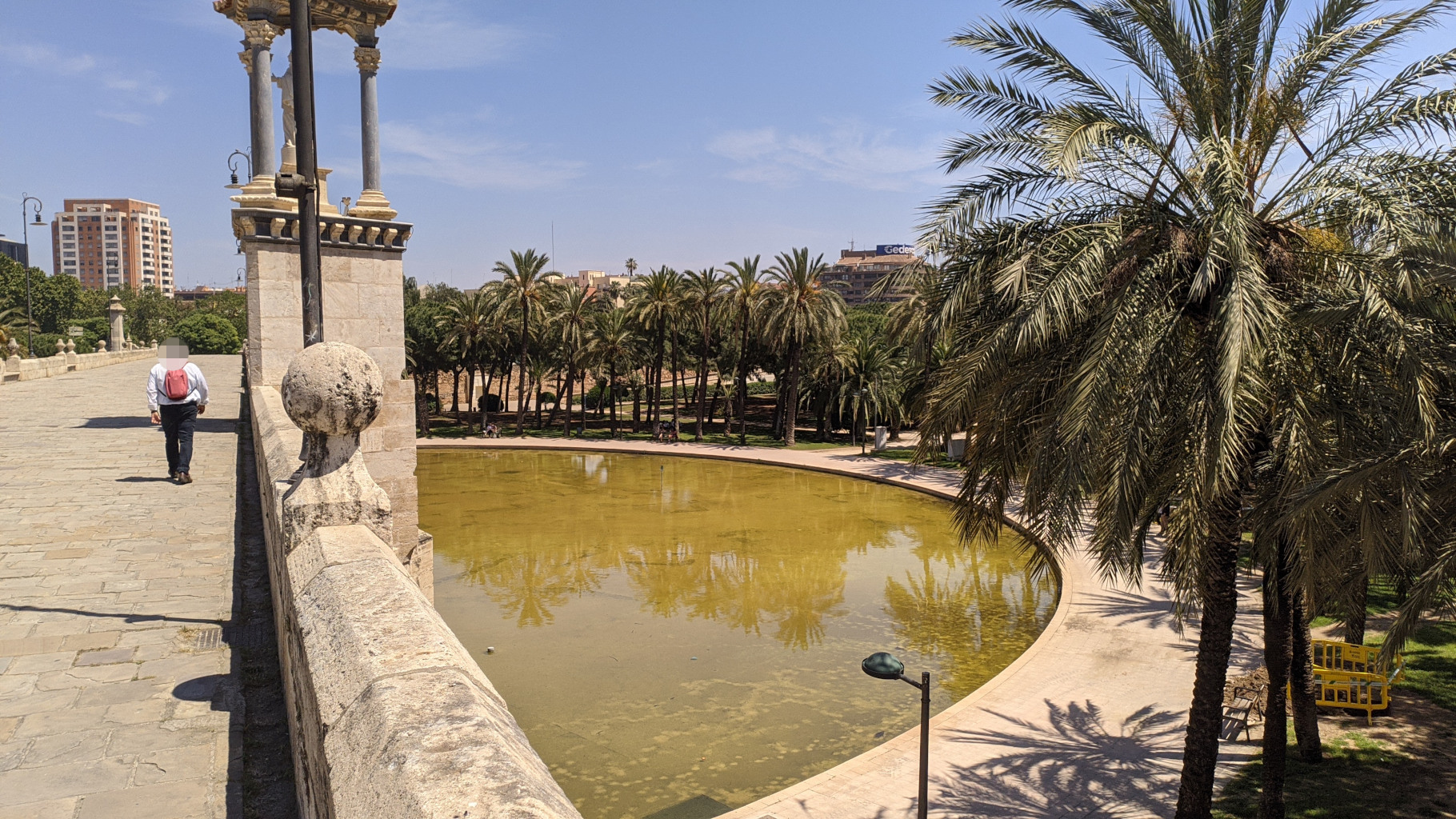 After the park was a broad street with parking lots in the middle strip, something I also had never seen before.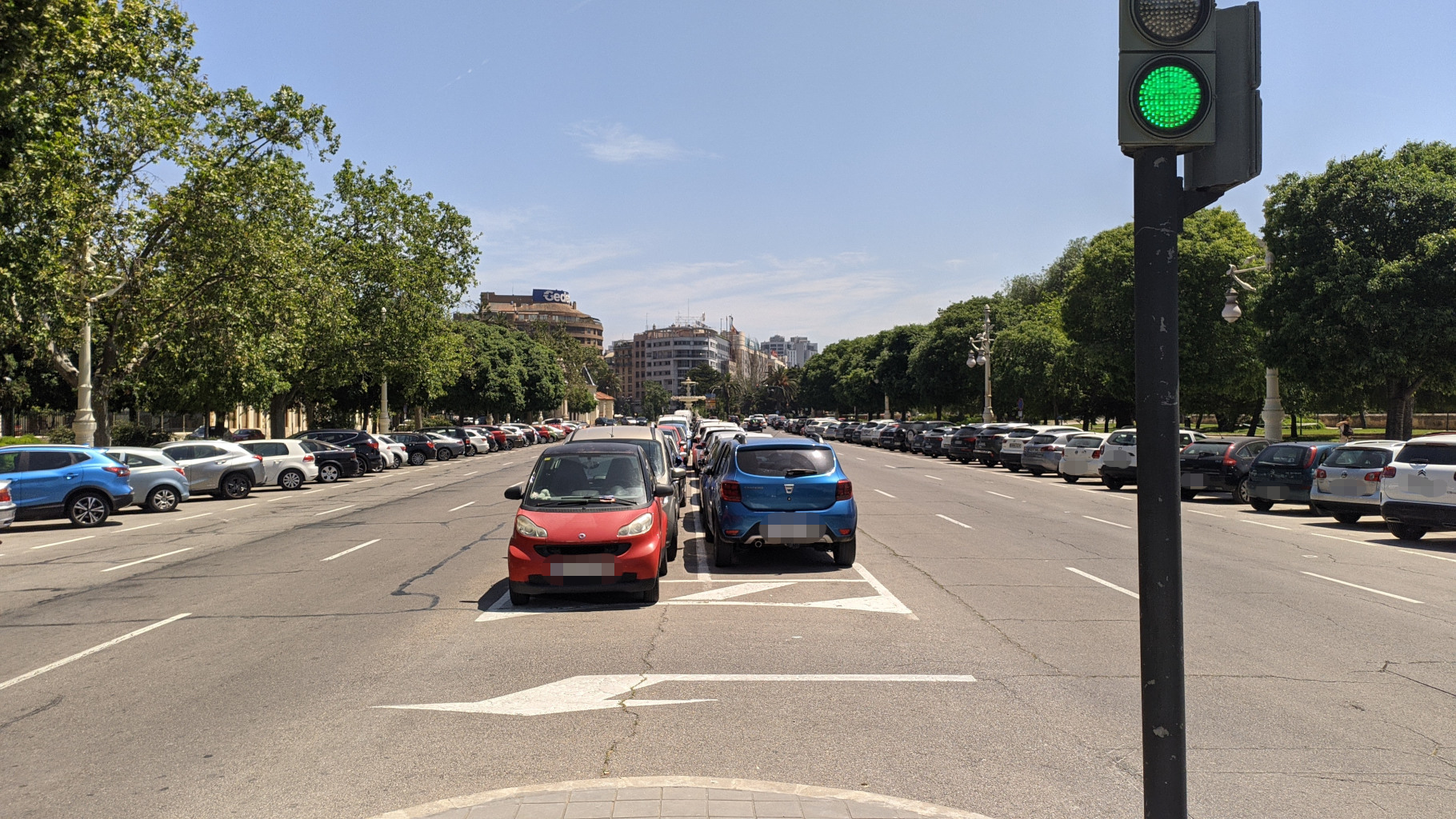 So after roughly an hour of walking and sweating I arrived at the beach. Compared to the other beaches I had been so far, this one was massive. Along the coast it went on for at least one or two kilometers (I can't be bothered to check), and it was constantly roughly 100 meters or so thick, so there was enough place to find a spot in comfortable distance to others.
It is surprisingly hard to take photos of the beach which are suitable for distribution in this blog, since many visitors of the beach chose to go topless and I want to preserve individuals right to privacy. For that reason enjoy a boring image taken from far far away.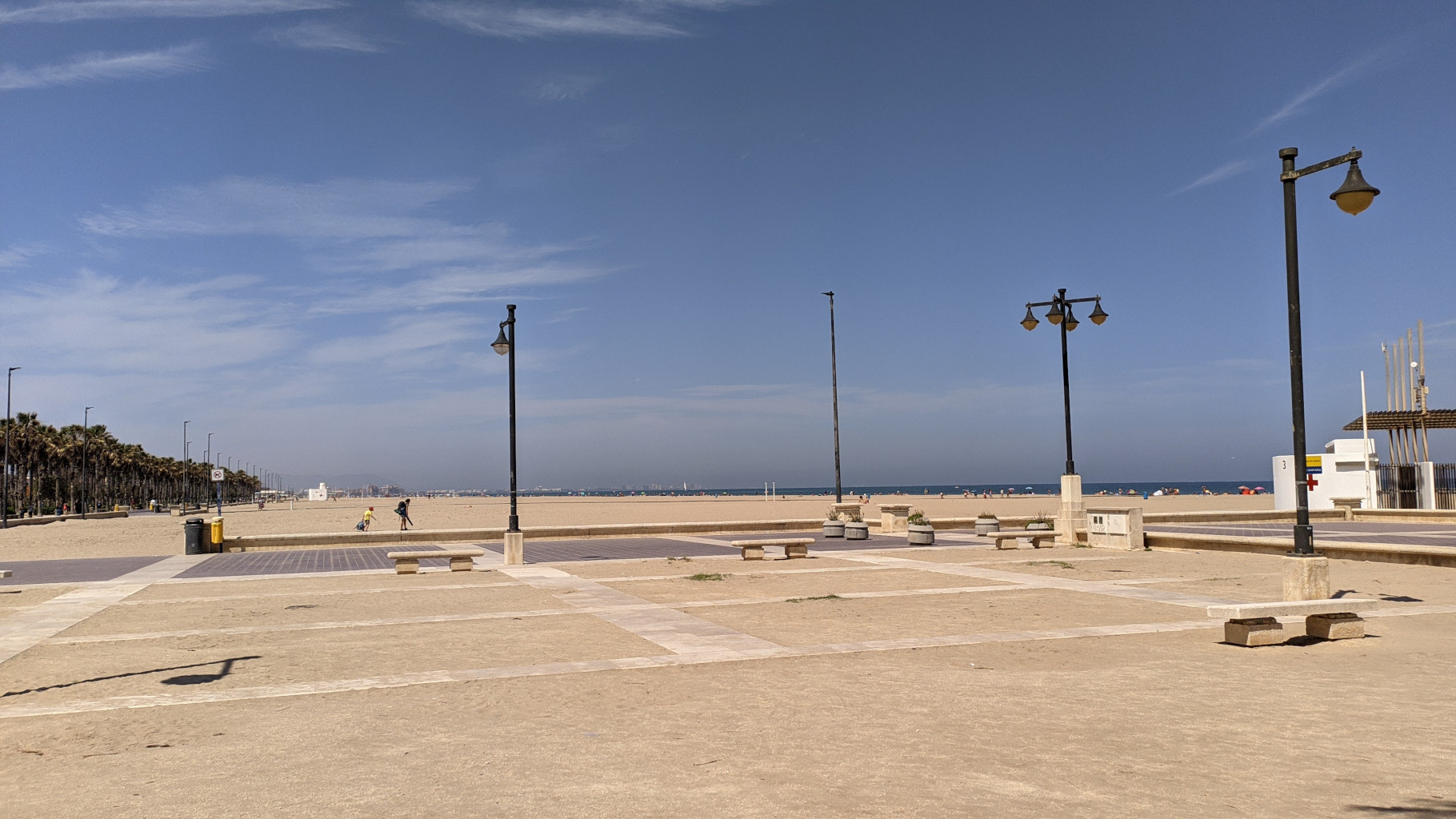 Only after I had unpacked my collection of items I had brought with me did I notice that I neither had packed a towel, nor sunscreen to replenish after bathing. So I decided that sunbathing would need to suffice that day, but made the commitment to swim in the ocean the next day.
When I went back to the hostel later, I wanted to take the metro, but I only had taken with me a 20€ billet which the ticket machine was refusing to accept. So I had to walk back. That concludes Mondays events.
On the next morning (at the time of writing it was barely still today), I took some quick breakfast and then prepared to return to the beach. This time I brought both sunscreen and a towel in addition to some coins for metro tickets, plus the usual equipment (picnic blanket, water bottle). My phone and purse on the other hand I had left at the hostel today. Should some thief decide to rob me today, he wouldn't be in luck. The most valuable item I had on me was the key to the hostel locker, which I planned to take with me into the water.
So after a quick metro ride and some few minutes of walking I was back at the beach. Today it was even hotter than the day before, so when I got rid of my shoes to walk through the sand bare feet, I almost regretted that decision. After setting up my base close to the shore, I decided to first get some more sun to let my towel (which was still a bit moist from a shower I had the day before) dry. Then it was time to get buoyant (hah!).
The water was not cold at all. It wasn't exactly warm either, but instead had exactly the right temperature. It was perfect.
After my swim I re-sprayed with sunscreen and then got some more sun. Later I decided not to risk a sunburn (you know how hard it is to apply sunscreen to your own back without support or a mirror?) and to go back to the hostel. After a quick refresh in the shower I did get about an hour of work done and then noticed that I was hungry.
In the historic core of the city I found nice looking restaurant and – to my disappointment – got the most expensive frozen pizza of my life. I mean, I did not ask afterwards, but I studied computer science, trust me, I know my frozen pizza. Cannot recommend that place 🙁
Later today I wanted to meet with some folks from the hostel for some beers, but I do feel a bit sick, so I opted out and instead decided to have a chill evening in bed.