Today I took the train to Bordeaux. I had to leave the hostel at 10, so since the train station was only about half an hour away, I had about an hour extra to kill since my train would go at 11:30. So I took some detours on the way, however I still arrived early at the station and had to wait some time.
The train was quite slow compared to high speed trains like the TGV or Thalys I took before. From start to finish the ride took a bit over 2 and a half hours, during which I could notice how the landscape around me was changing. From sparsely standing, low trees and tall grass, the land soon transformed into heavily tree-covered leafy forests, which then turned into mostly coniferous forests which finally gave place to large vineyards. We crossed several metal bridges and passed some nice rural villages. One train station did not even have a platform.
I did a little bit of work during the ride. When processing signatures, PGPainless would accept single signatures, lists of signatures, as well as compressed signatures. The latter actually makes no sense. A cryptographic signature is indistinguishable from randomness, so there is no sense in compressing it, as there would be no decrease in size. The only use for compressed signatures would be for an attacker trying to exploit flaws in the compression algorithm, so I removed support for compressed signatures from PGPainless. Thanks to DemiMarie for pointing this out in a group chat.
On the train it was chilly, they must have had the air conditioning on so I had to get my hoodie. When we finally arrived in Bordeaux however, the air outside was warm enough to go T-shirt only again. The train station Bordeaux Saint-Jean is massive. When I left the building at the front, at first I didn't notice that what I was now seeing was only about a third of the whole station building. What I thought was the main entrance was just a side wing. I could admire the rest while walking past the station, heading to the river.
Bordeaux is built around the Garonne river. I believe that the name Bordeaux actually comes from "a bord de l'eau", but I could totally be wrong about this. My hostel was another 5km away from the station, so I had quite a bit of way ahead of me. Along the Garonne, there are parks (surprise!) for sports and relaxation, as well as a nice boulevard for pedestrians. There is even a large, ankle-deep water area which was used by a lot of people to cool down their feet. I too took the opportunity.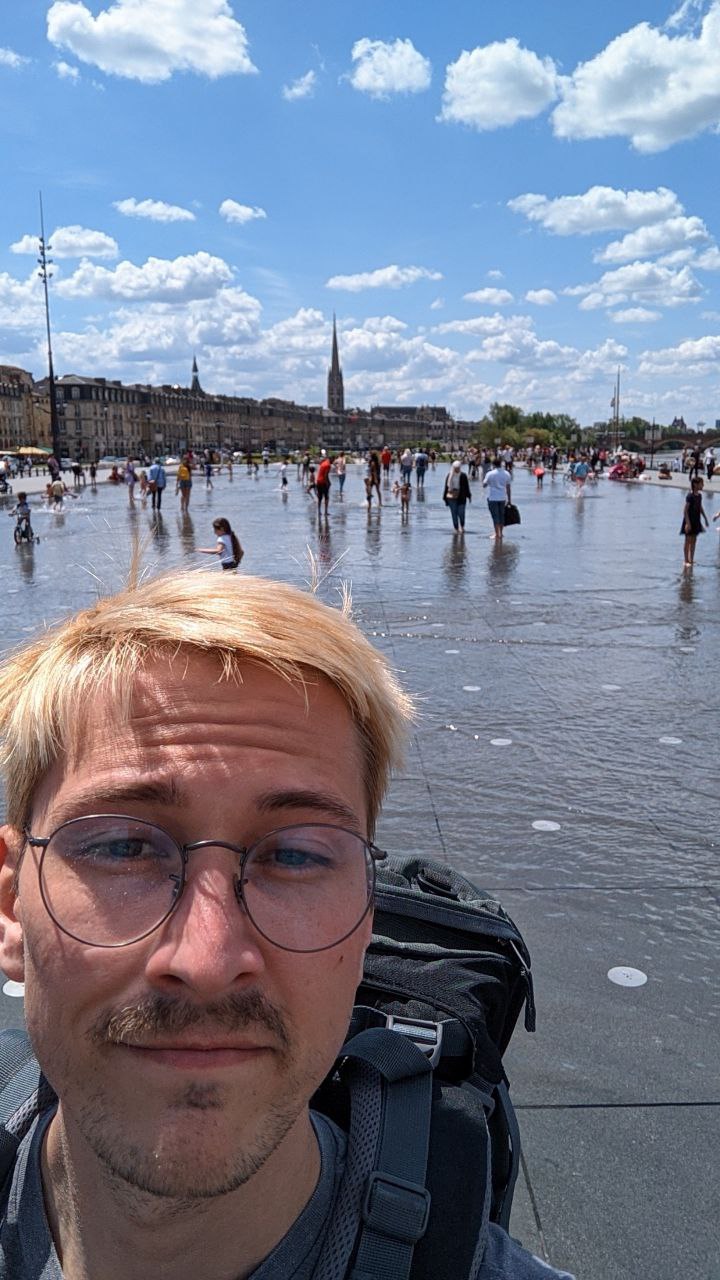 Eventually I arrived at the hostel. I had read on the internet the day before that they had a laundry room. After almost a week of travel I was running low on fresh shirts, so it was about time to do my laundry. The hostel had 3 washing machines along with 3 drying machines, all stacked in a dedicated room. I was told by the receptionist that in order to use them I would have to download an app. Already I feared the worst…
So I went to my room, unpacked my stuff and took my dirty laundry down to the machines. The app was called "AppWash" by Miele. My phone is running LineageOS without proprietary Google Services, so such apps always pose a risk of not working properly for me. Luckily I have a third-party app store which I could use to download the app, and on first sight it didn't appear to depend on Google services. So lets give it a try!
On first start, the app prompted to enter credentials. At the bottom was a button to click for new users which would trigger the registration. Here I was asked to enter my phone number. Okay, I don't know what my phone number has to do with my laundry, but lets comply. I entered my number and pressed the "Next" button. Nothing happened. The app displayed a text stating that I should now receive an SMS with a code, but that never arrived. I tried again, nothing. I tried different formats for my phone number, e.g. with "+49" at the start (even though there was a drop-down menu for the country), with prefix "0049", simply with a "0" as you would type it in Germany, nothing helped. I was annoyed.
Eventually I figured out that the vendor also had a web-app which I could successfully use to register. During the registration process I had to enter not only my phone number, but also my name and my full address. Ever heard of data reduction, Miele? Why do you need my full address when I just want to get my damn laundry cleaned in Bordeaux???
The reason is probably billing. In order to pay for the washing, I had to charge my account in the app with 20€ via PayPal. Then I was finally able select the washing machine that was right in front of me, to start the washing process.
Why have a simple coin slot, when you could have a complicated app system where the user would need to register, giving away their complete personal data and having to remember yet another password, all for the benefit of being digital? Oh, and you now have push messages reminding you to get your laundry out when its ready. As if I could not look at the display at the beginning to note the duration and set a timer… This is stupid. Hello Digitalzwangmelder!
But now I have clean laundry again 🙂
After this I went down the boulevard again. I had not eaten much since the breakfast and my stomach was giving signals. I ended up ordering a big Cesar Salad. Normally I refrain from eating meat when possible, but today I cheated. The chicken strips were nice though, so I don't regret anything. The salad itself was a bit "sandy" though, and I even found a small piece of gravel on my plate?!? Still, it was tasty (not the gravel), so worth it 🙂
Now I am sitting in the hostels co-working space with a pint of Belgian beer and reflect on the past day, writing this blog post.
At some point during the day I had a thought: You cannot run away from being lonely. Besides some short exceptions, I haven't really met anyone yet during my travel. Sure, I crossed many people on the road, but the only people I really talked to were friends and family on the phone. Am I lonely? Maybe. But that's okay for now, I guess.
I don't feel lonely. Yet.