During the night, another guest of the hostel in Barcelona decided that at 3:00 it would be the perfect time to wash his laundry in the rooms sink. Otherwise the night was okay, so at 9:00 I got up and got a nice, rich breakfast consisting of cereals, a croissant, a yogurt and a banana. Plus 2 cappuccinos for good measure.
My plan for today was to go to the train station to get a reservation for the train to Montpelier which would go later the day. However, when I arrived at the station and got to the ticket office after waiting half an hour in the queue, the ticket seller told me that the train was booked out. However, they offered me to try some smaller, regional trains. Those would go earlier, but I would to switch multiple times. On the bright side though, I also would not need to buy reservations. So after waiting at the station for another hour, I boarded the train to Cerbère.
This was a regional train, meaning it would make regular stops at small stations and its top speed was quite a bit lower than what I had gotten used to during my trip. Once again I was able to observe the landscape slowly changing. The orange-ish soil progressively vanished under greenery and the mountains got steeper. When the train reached Port-Bou, one station before terminus, I was in awe admiring the blue of the sea on my right while green mountainsides were close to my left.
In Cerbère I was greeted by police who wanted to control passengers passports at the platform. This was the first time I was getting checked by authorities. They basically just glimpsed over my identification, while some other travelers apparently weren't quite as lucky. I can only speculate, but based on the gestures of the police men, I assume they were lacking some required document. Police took them with them, presumably to verify their identities at the police station.
It was already past 16:00 and I was hungry. Unfortunately the two snack machines at the station were both broken. Finally the train to Avignon arrived, so maybe I was lucky at another station? Some stations later, I made a risky move and quickly left the train, ran to the snack machine at the platform, got a pack of gummies and ran back. It worked out and nobody stole my stuff 😀
I still had to book a hostel in Montpelier. When I checked the offers, I was shocked to see that 50+€ per night were the minimum. Even the youth hostels were expensive. So I looked for alternatives and finally decided not to switch trains in Narbonne, but instead stay on the train for a bit longer to leave at Nimes. Here I found a hostel at an affordable price.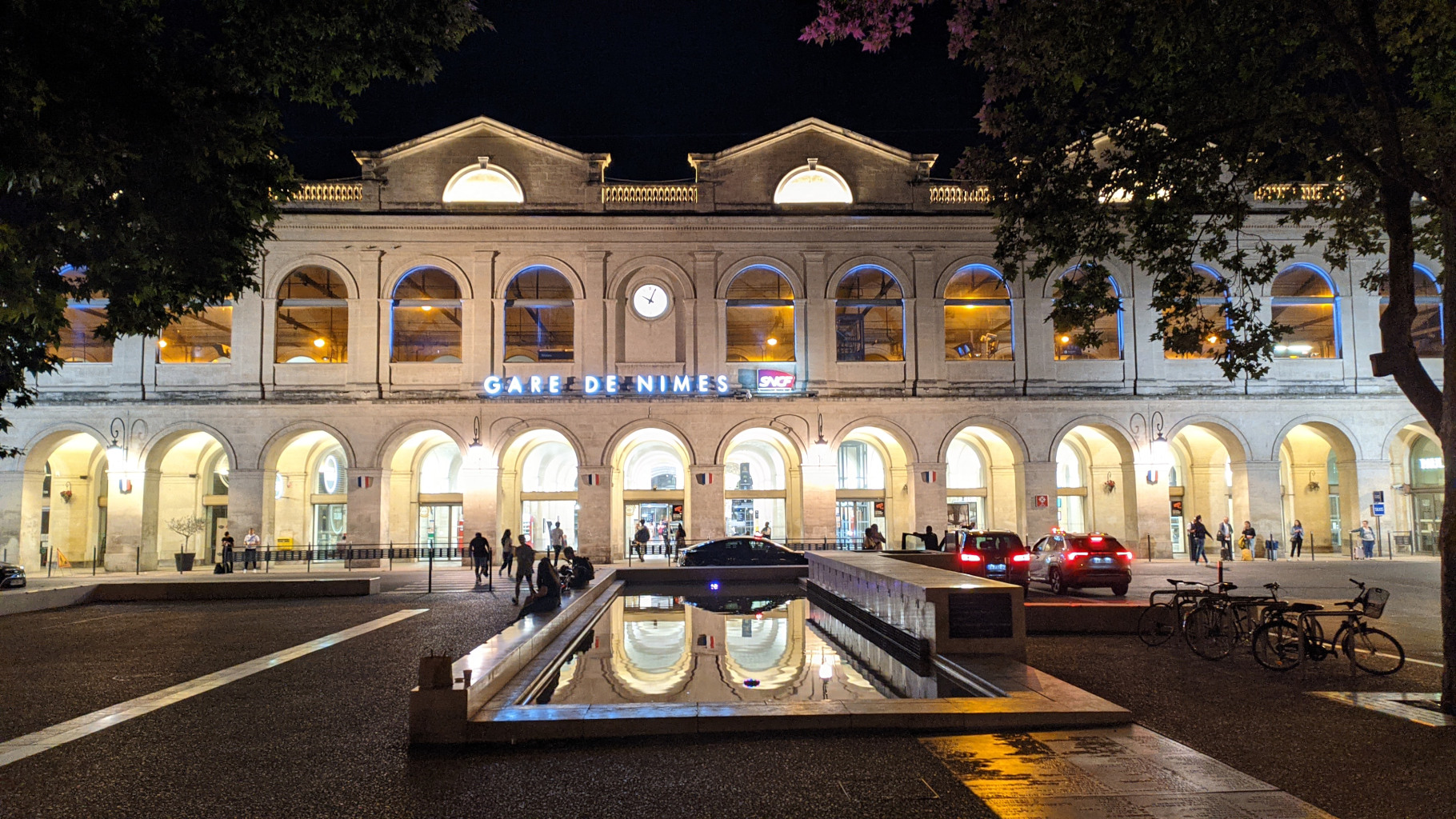 The train station in Nimes was built using large archways. When I got off the train, I thought I had to somehow move over the tracks in order to get into the city. Instead the signs lead me down some stairs into what I thought was the cellar. However, the large arches eventually opened up to the street. Now I realized that the tracks were leading into the station on the first floor (European way of counting). Interesting.
I quickly checked into the hostel and then asked the receptionist for a recommendation for a place to get something to eat. He recommended me a street with lots of restaurants. It wasn't far away, so it only was a five minutes walk. Originally I had some trusty pizza in mind, but then I thought I need to try something local. One offer made me curious: Camembert Fondue!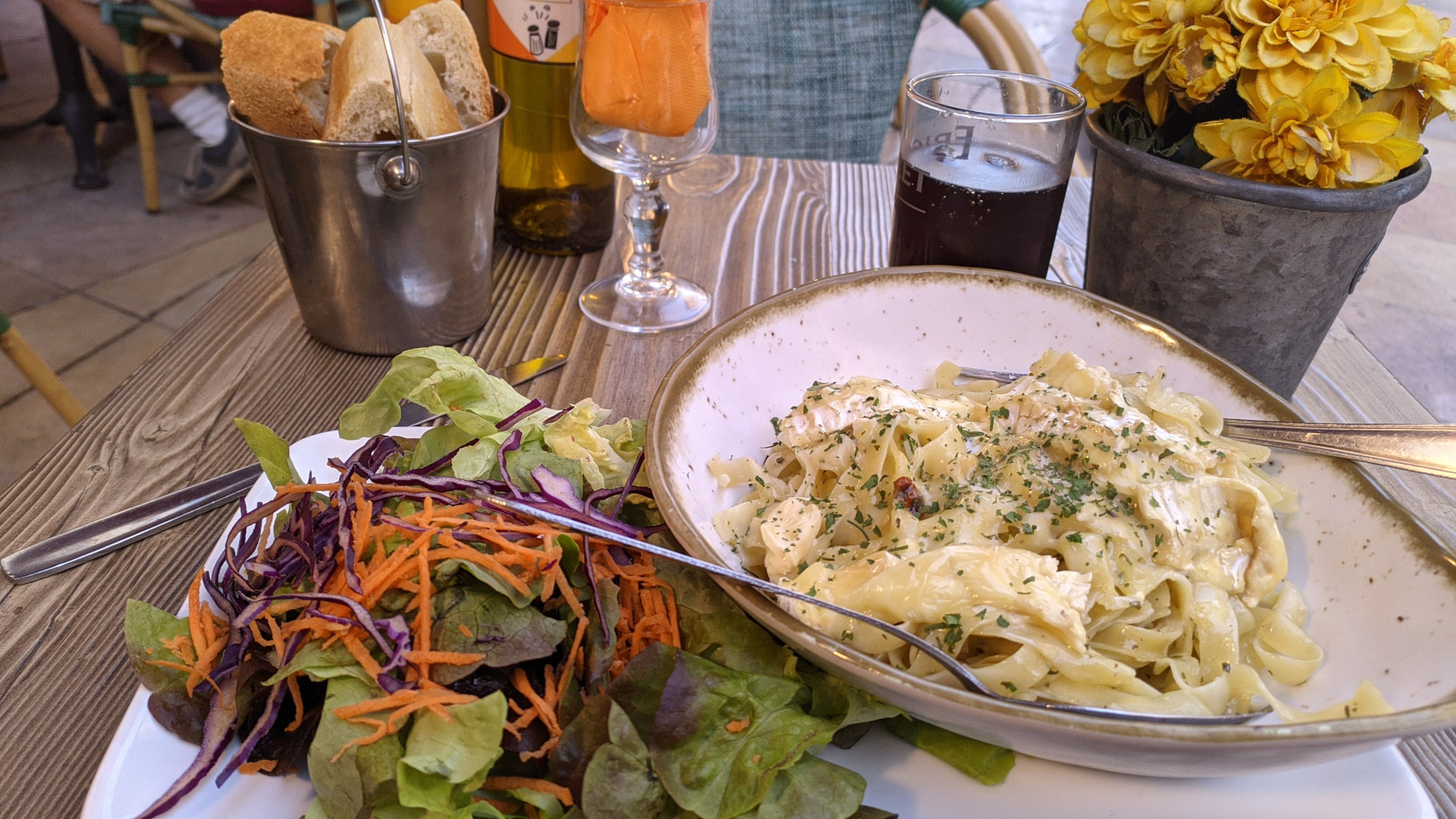 The meal was fantastic. Tagliatelle with molten Camembert on top, combined with a salad, some bread and a coke. It was so nice! If you come to Nimes some day, check out P'tit Nimois 😉
Satisfied I wandered around through Nimes for a bit longer, but it was already getting dark. I took some nice pictures of the Arena though and afterwards went to the Hostel to end the day.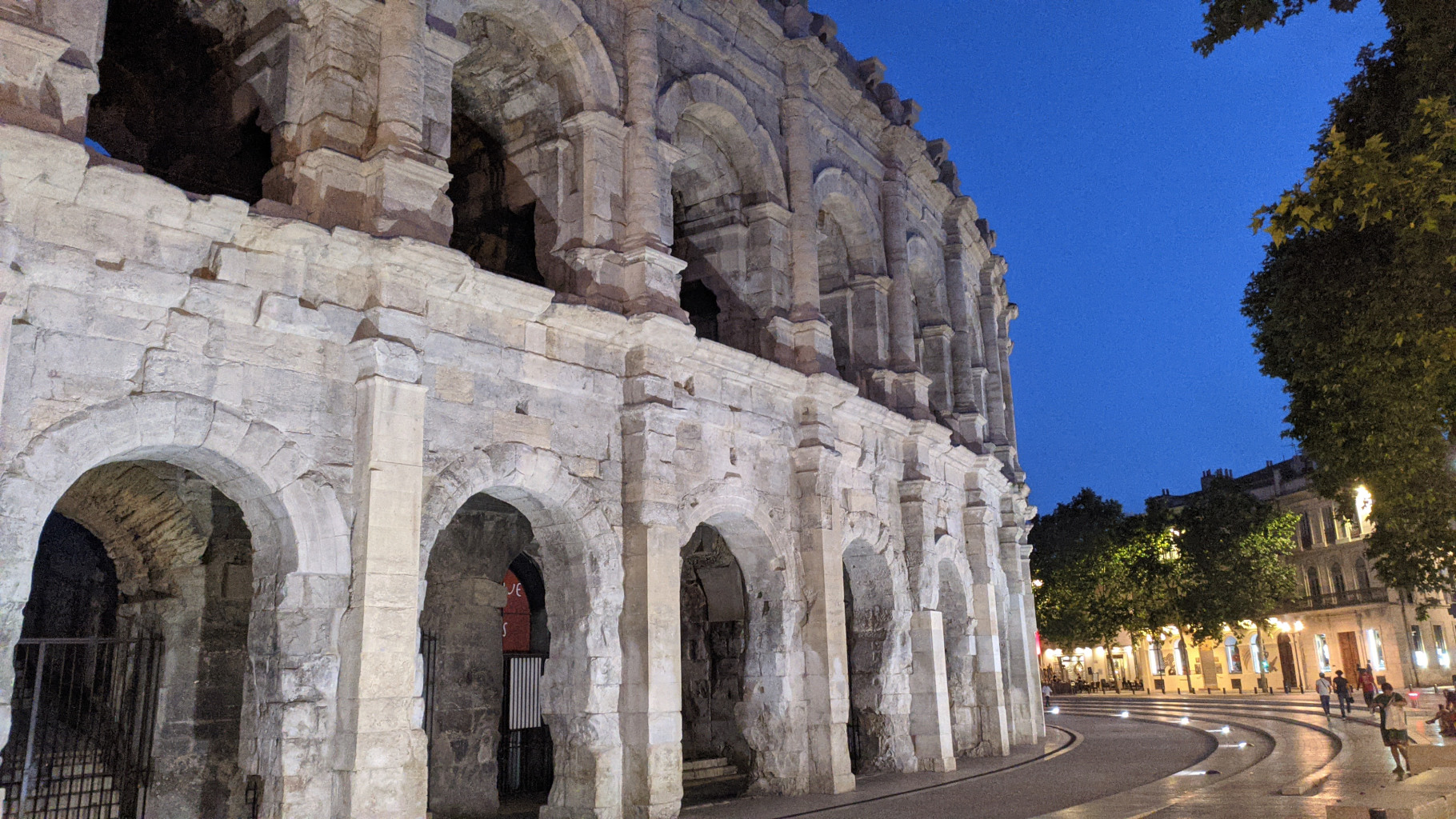 While I don't know what I'd miss out on in Montpelier, I'm liking what I have seen from Nimes so far, so it was not too bad of a deal 🙂
By the way, if as a law-abiding citizen, getting checked by police makes you uncomfortable (I know it does for me), you should really act out against the European Commisions latest plans to deploy wide-reaching "Chat Control". The proposal is dangerous and would deploy a surveillance system in the EU which is even worse than those in repressive states like China or Russia! There is are a bunch of petitions against the proposed rules, and you can even provide direct negative feedback to the EU!