Yesterday I had some breakfast in my hostel and after that I took the metro to the Châtelet station which is close to the Seine. When I was in Paris near the start of my trip (which is almost 4 weeks ago at this point) I had walked down the riverside path of the Seine and therefore had missed some points of interest that lay behind the quay wall.
One of these things is the famous Louvre. I did not plan on visiting the inside, as I'm not really into looking at paintings, so I settled on sightseeing the building from the outside. The campus (I'm not actually sure if it all belonged to the Louvre) is huge. You are encircled by large facades and are stared down from statues of famous people on the balconies above. Then, walking though an archway, you enter a large yard with the glass pyramids in the middle.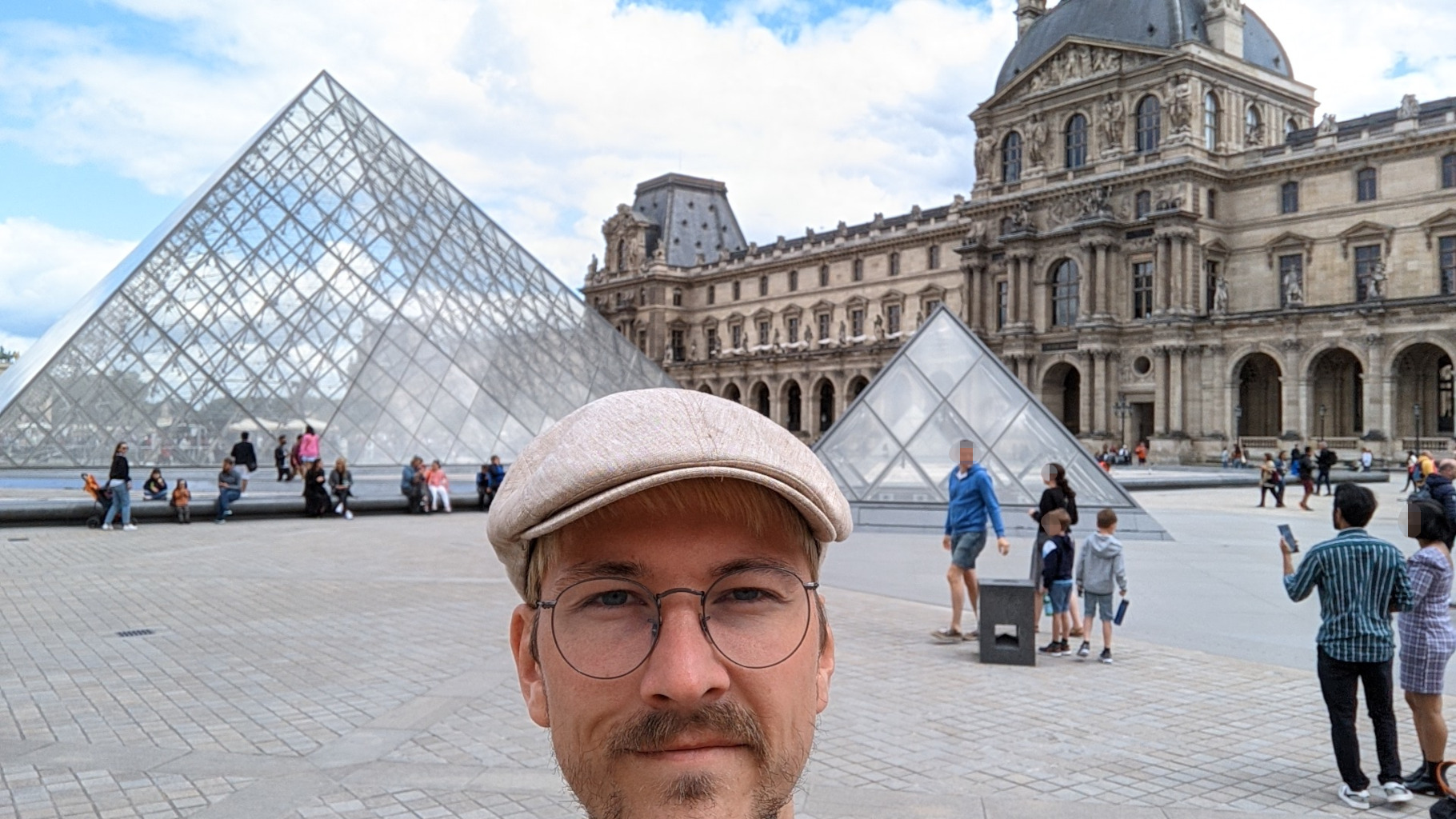 I still have an idea for some future arts project in case there are artistic people among those who follow my journey so far: Taking pictures of tourists taking pictures of themselves. At the Louvre's glass pyramids they have placed some granite blocks for tourists to stand on and take quirky images of themselves holding the pyramid from its tip. As a consequence, every tourist takes the same exact image.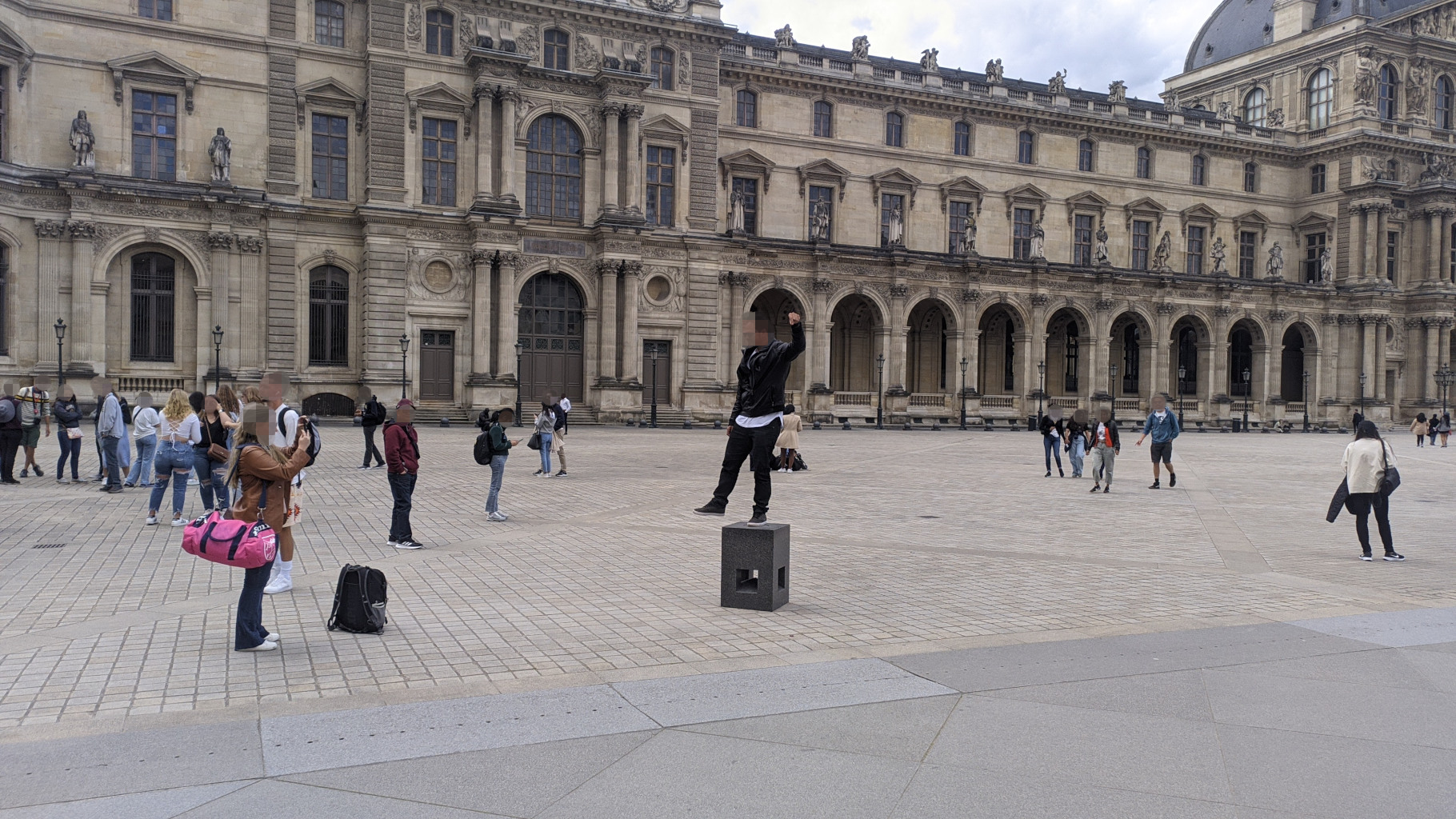 Behind the pyramids is a park with lots of statues. Some of them show rather questionable motives, like this one of a woman who is clearly uncomfortable of being photographed.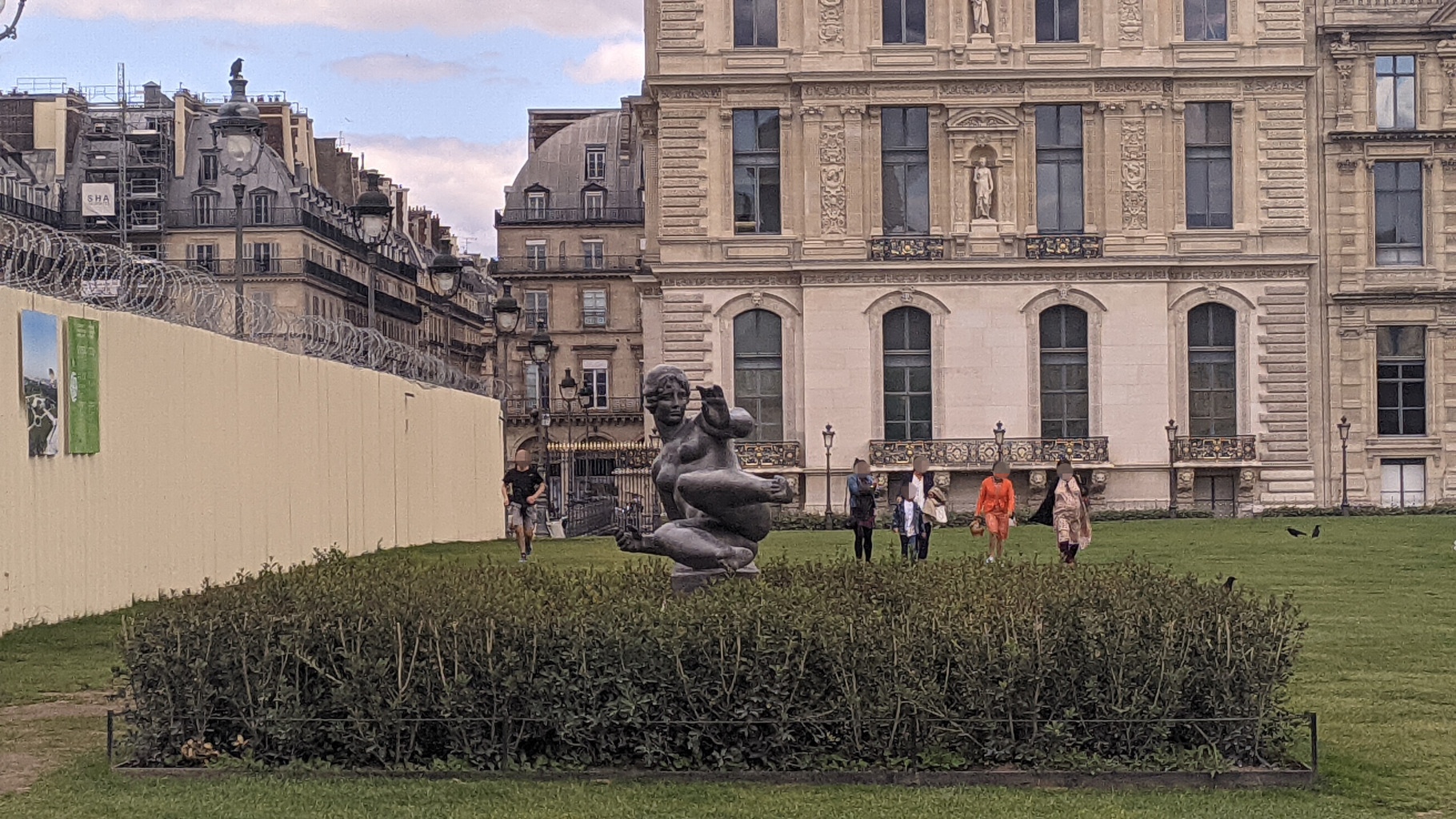 Imagine modelling for a sculptor and this is the result…
The park also had another water basin for children to play with toy sail boats. It was rather cold this day, I guess it was the coldest day of my journey so far. You can probably tell by the people in this image wearing jackets.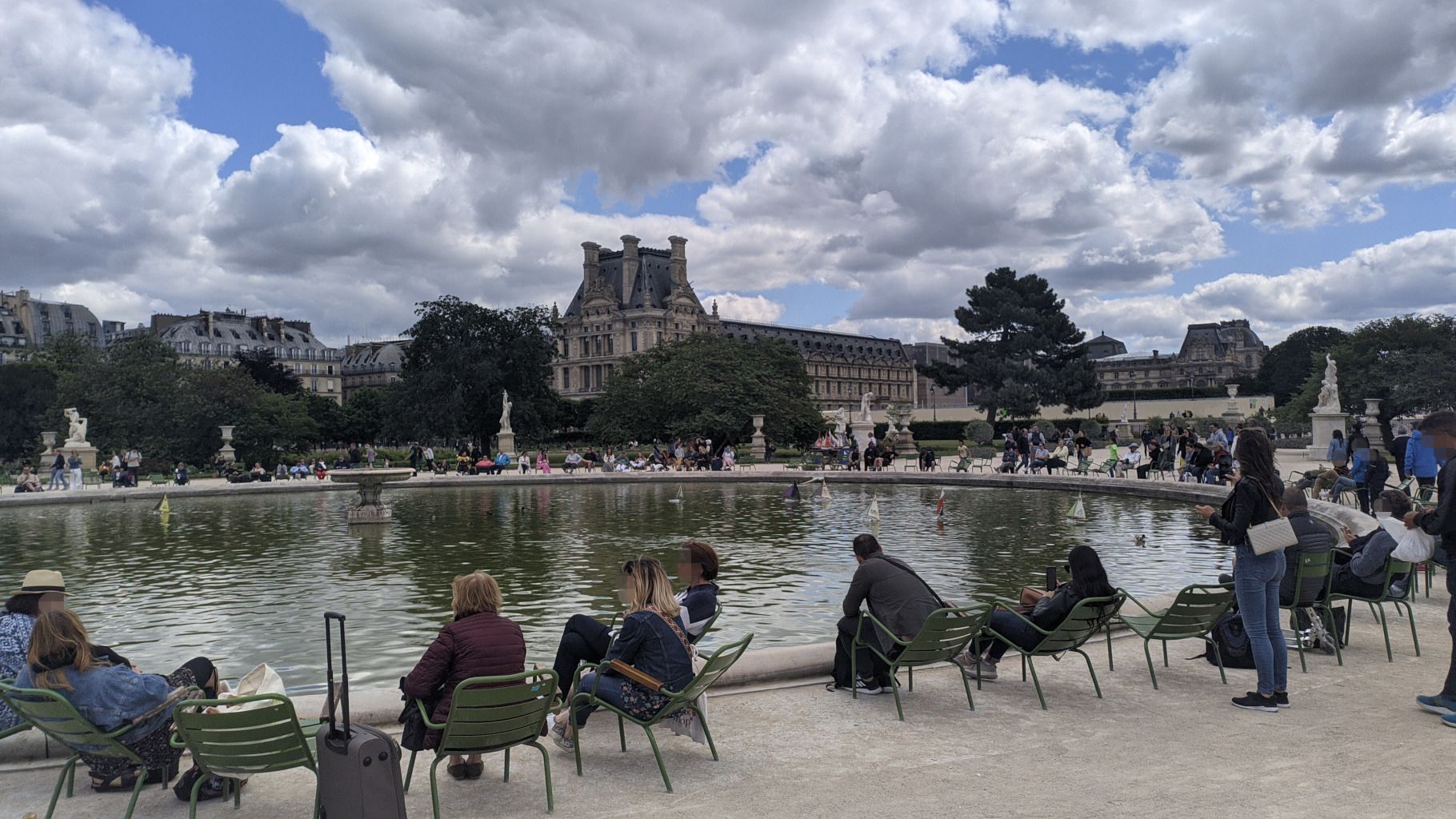 After the park came a big place with an obelisk in the center. As far as I know, this obelisk was a present from an Egypt emperor to a French one.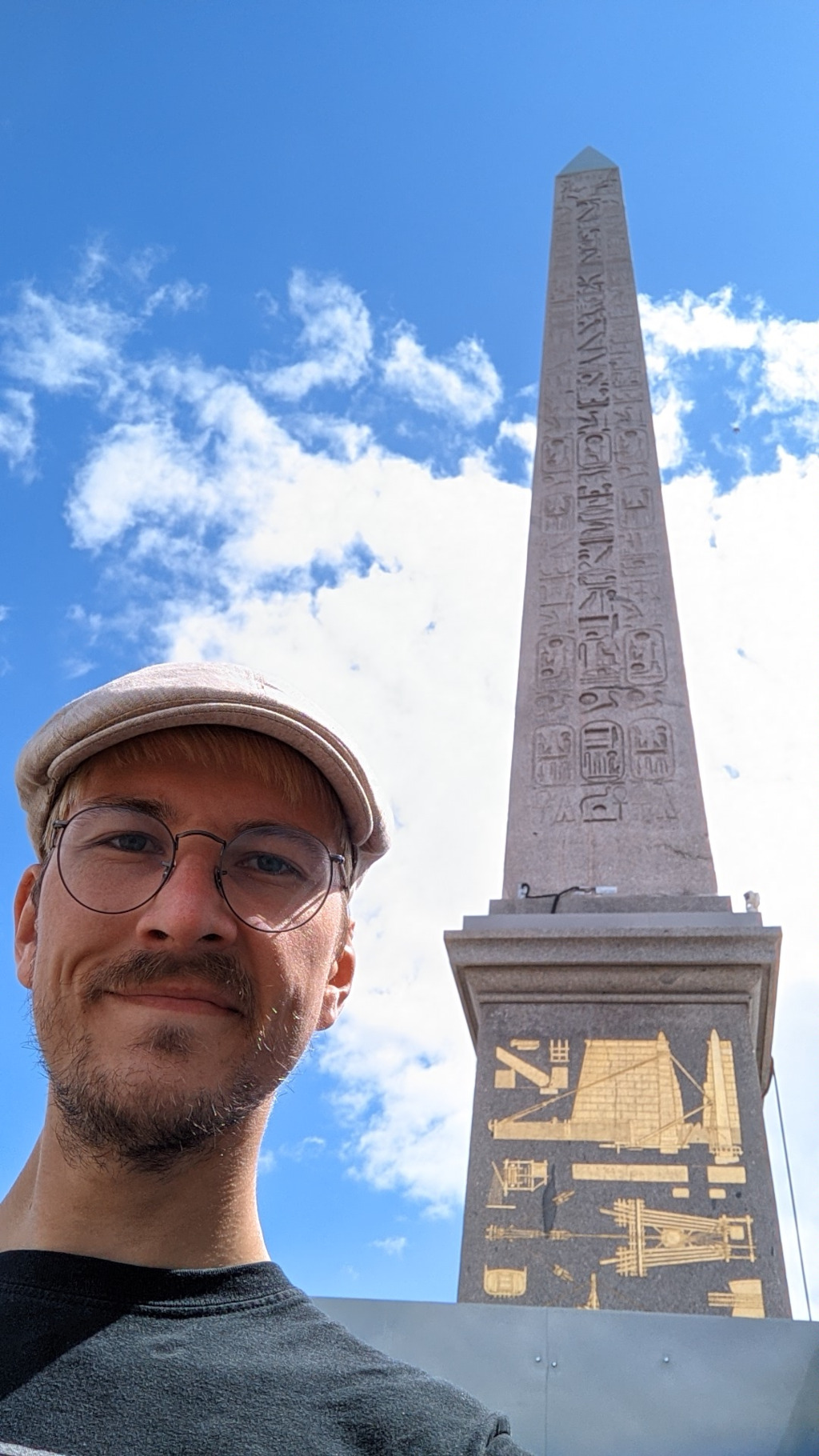 Leading from the obelisk down to the Arc de Triomphe is the Avenue des Champs-Élysées. Given the extent to which this street is romanticized in culture, I would have expected it to be spectacular. However, it was a bit underwhelming, as it even took me some street signs to even notice that I was in fact walking down the Champs-Élysées. To me it looked like part shopping promenade, part park lane.
When I reached the Arc de Triomphe, I admit that I may have broken some traffic rules. The arc is standing in the middle of a large roundabout with multiple lanes. Apparently there are underpasses for pedestrians to reach the center without the need to cross the street. However, I did not know that, so I just crossed the traffic lanes when I got the opportunity. Only when I crossed traffic another time on the other side of the arc, I noticed that what I had thought was a metro station was in fact an entrance to the underpass. ¯\_(ツ)_/¯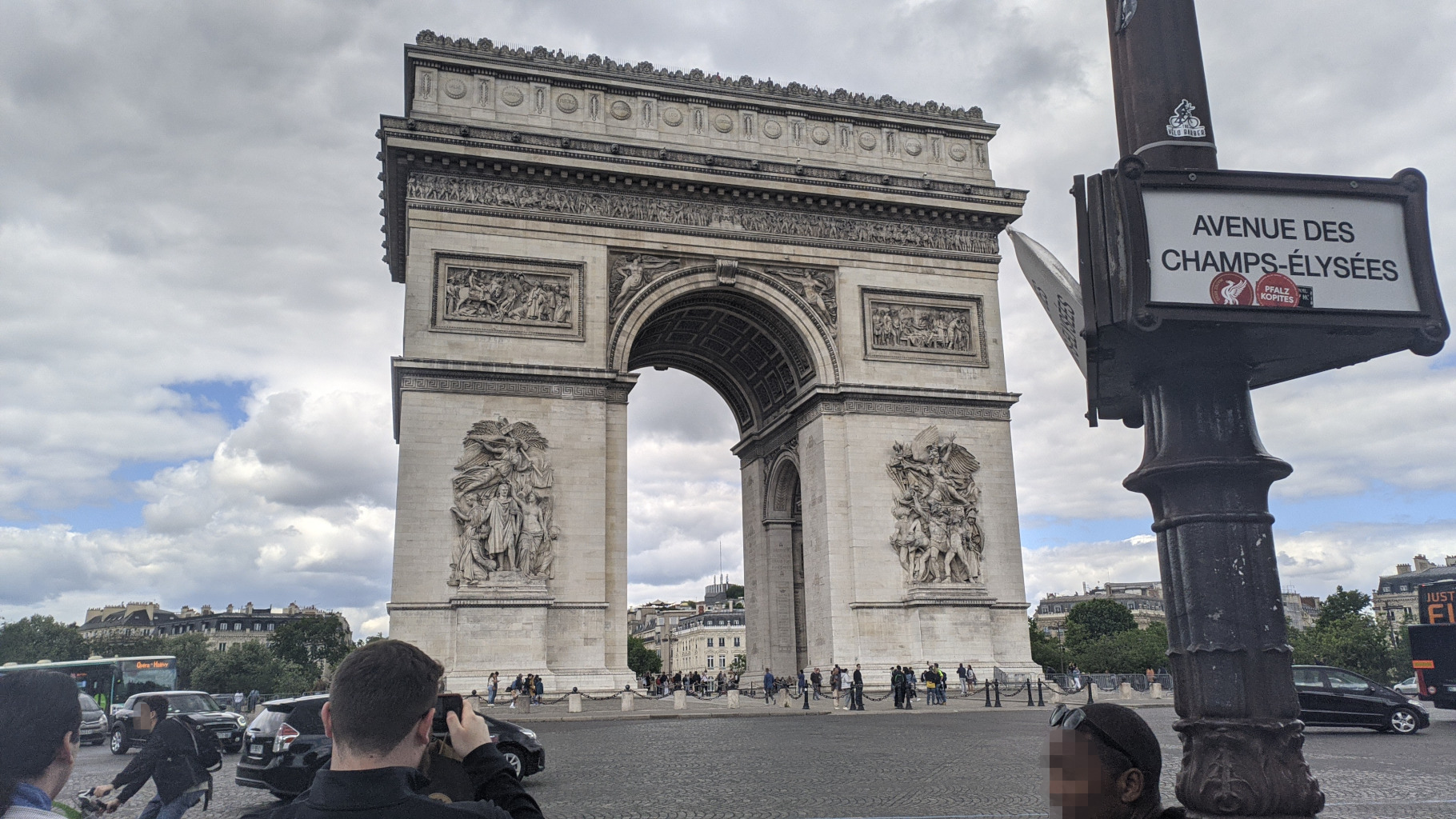 At this point it became a bit windy, so I decided to get back to the hostel. I found an actual metro station not far away, which took about 15 minutes or so to get me close to the hostel. I must say, that I like the metro. Its a shame that Münster doesn't have a metro system. Being able to just walk to a station and have the next train be there in less than 10 minutes is quite nice.
Back at the hostel I relaxed a bit in my room, then went shopping for some snacks and later went to the roof terrace. There I got some work done on my laptop. I considered getting a drink, but the prices were exorbitant, so I quickly discarded that plan.
And that already concludes yesterday. Originally I had planned to visit some ESA centers in Paris, but it turns out that they only contain offices and are not open to visitors :/. Someone recommended me to visit the Mozilla office though, so I might try to check that out in the next days.