When I visited the roof top lounge of my hostel the day before, I had seen a place I had not yet been to and that a tourist in Paris probably should pay a visit to: The hill Montmartre with the Basilique du Sacré Cœur on top.
Therefore, the next day after getting up, I went down to the hostels breakfast area to get ready for the day. I was a bit late today, it was already 9:50, so the lady at the reception gave me a free breakfast stamp. I still got the full breakfast and did not have to hurry at all, so for me it was a pure win. After the breakfast I left and went to the nearest Metro Station. Some switches later I departed at station Anvers, which is very close to the Sacré Cœur. I could actually already see it from here.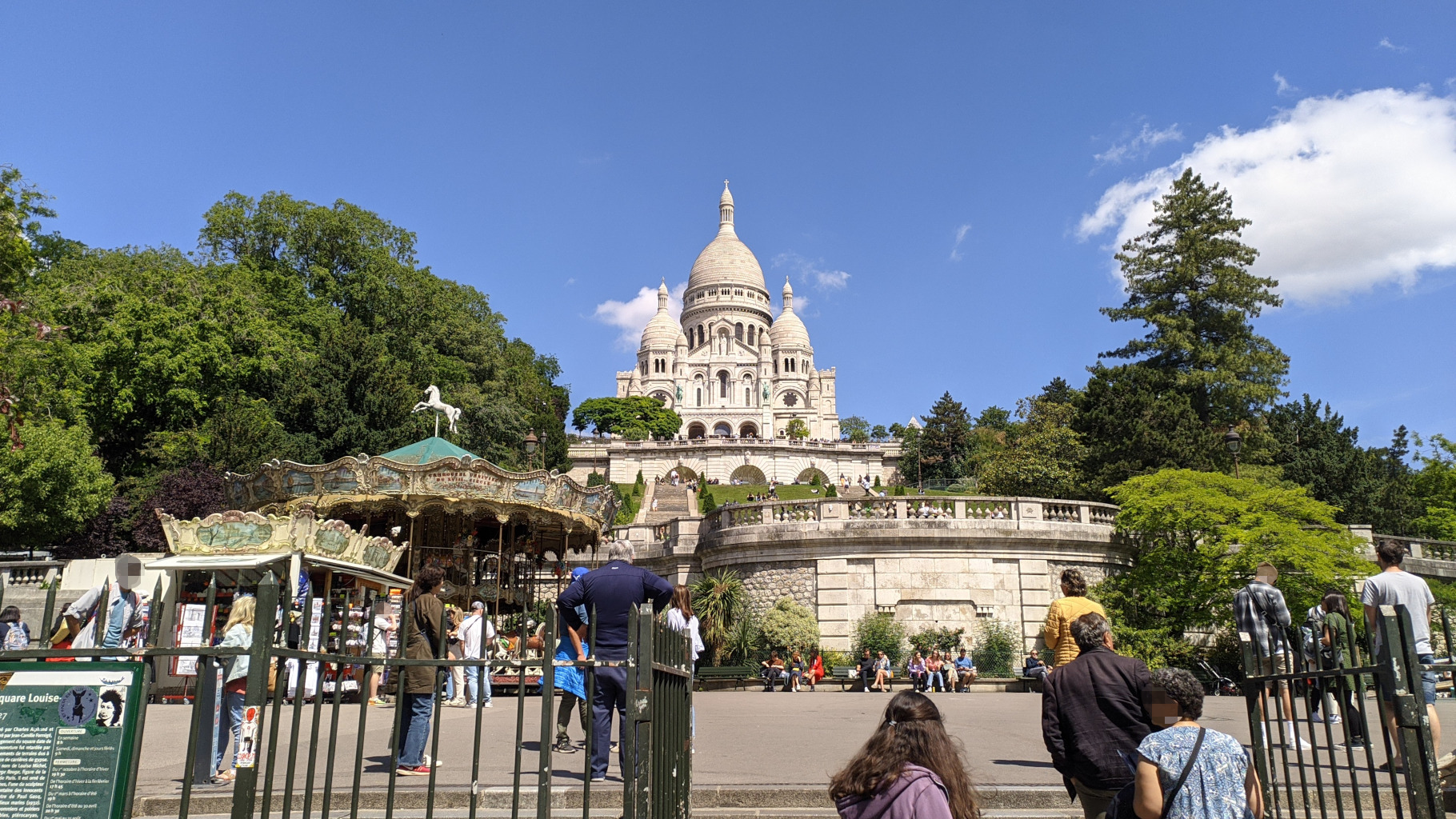 The basilica is a popular attraction for tourists as from its elevated position tourists have a spectacular panorama view all over Paris. I climbed the stairs that lead to the top of the hill and was greeted by pitchmen trying to sell water bottles, small metal Eiffel Towers and other touristy gimmicks. Some of them also sold heart-formed love locks which couples could attach to fences around the church.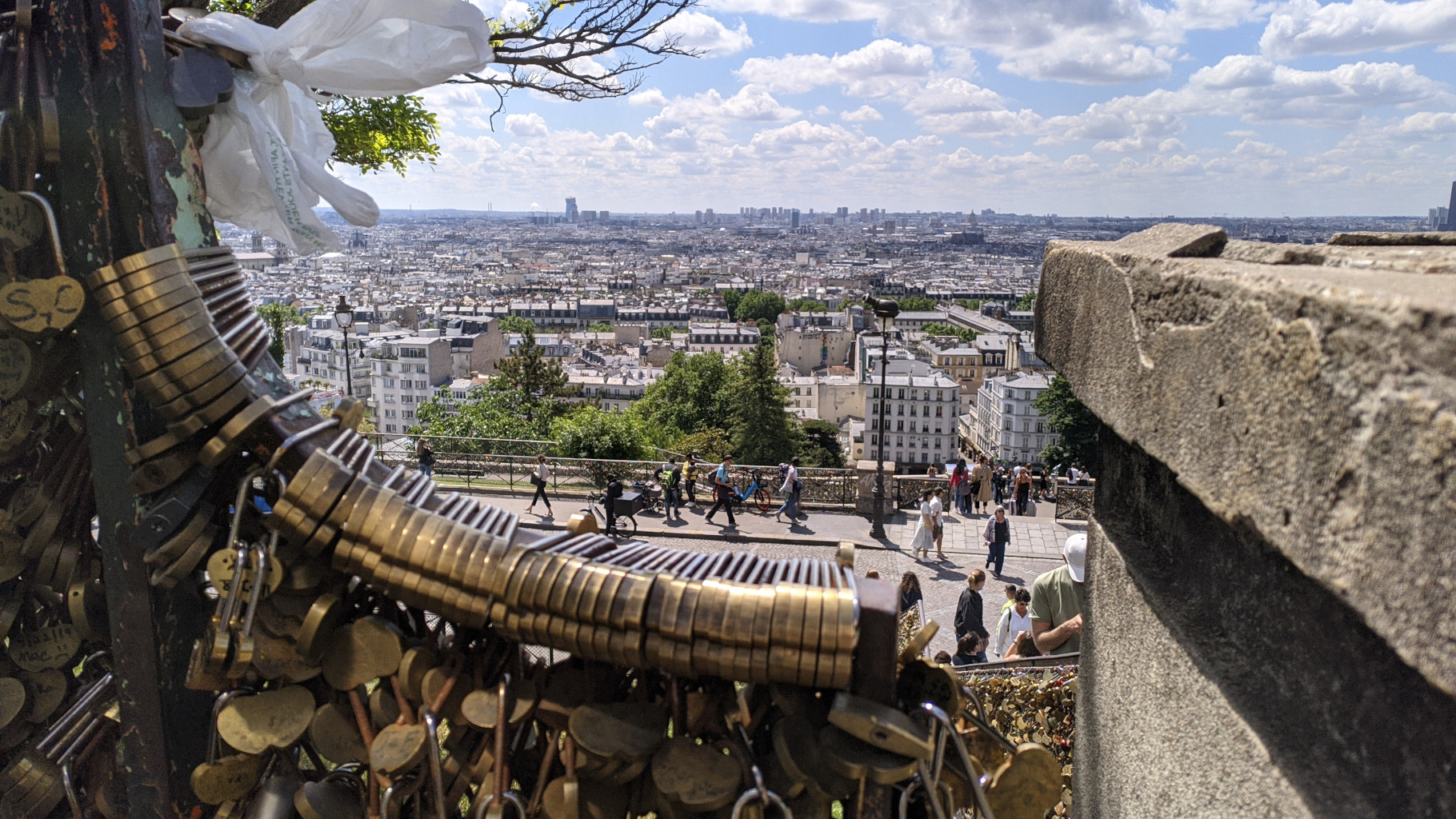 You can visit the Sacré Cœur. It is possible to both go inside (its free), as well as take some 300 or so steps to climb the top. First I went inside the church. A churchmen quickly signaled me to take of my hat. I was a bit disoriented by this claim of respect, but of course being the guest I followed his request.
In retrospect I realize that during my trip I have made lots of photos of churches and cathedrals, even though I'm not a religious person. I believe that many problems of society are directly or indirectly caused by religious fanaticism, ideology and authoritarianism, hence I'm not a big fan. My philosophy is that if you need someone else – like a book – to tell you how to be a good human, you are not a good human. However, you cannot NOT be in impressed by the massive scales of cathedrals built hundreds of years ago. These architectural masterpieces stand testament to the fact that religion can also excel humanity, even though it may only be a side effect of exercising power.
Next I got in line to visit the roof top. There was a sign saying that it would take 292 or so steps to get to the top, so I decided to count. Two thirds the way up, debating in my head whether a downwards step should count as -1, 0 or 1 (what do you think?), I lost track and gave up on counting. On the top was a panoramic gallery which provided a wide view over the city.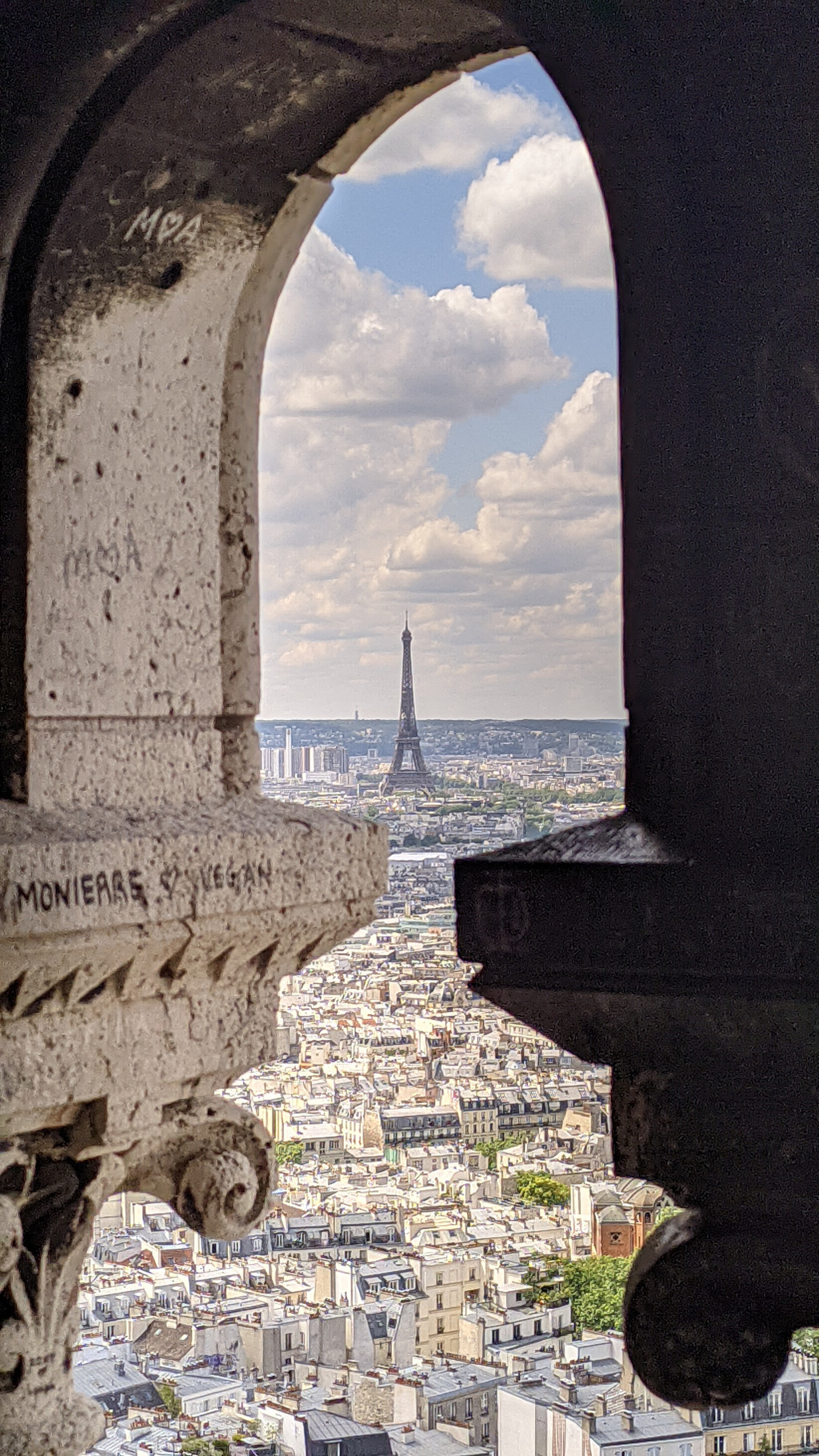 From up here, I could clearly make out where train tracks were cutting a swathe through the jungle of buildings that made up the city. Somehow the metaphor of a "Gleiserne Wunde aus Stahl" kept floating around in my mind.
On the way down again, I could make another art piece for my collection of photos of tourists making touristy photos.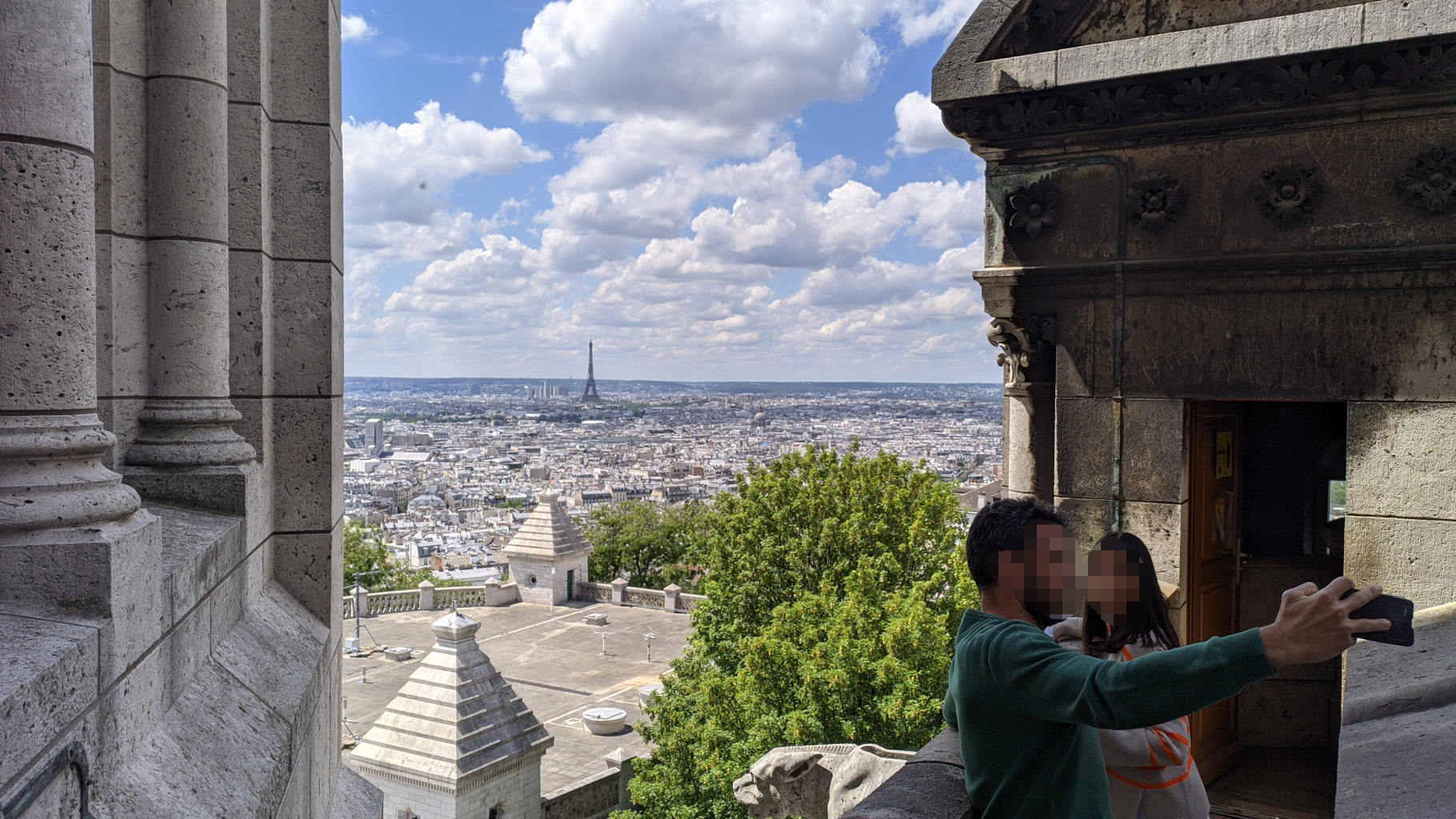 Out of the basilica again, I wandered a bit through the streets of Montmartre, just letting the experience rain down on me. There were lots of artists that offered drawing pencil portraits of people. Everyone of them had a collection of drawings on display and most of them looked the same. A bit lost in thoughts on whether you can separate an artist from their work or not, I stumbled across a small restaurant that offered pizza with fondue cheese. Intrigued I decided to give it a try as I was a bit hungry too.
In the end I cannot recommend it unfortunately, as the pizza was actually two halves of a Baguette with some toppings and a layer of half molten fondue cheese on top. Given that it was quite cold that day and I was sitting in the shadows, it did not long for my meal to get cold. I'm not sure what the definition of pizza truly is, but all I can say is that pizza let me down for a second time during my trip.
After this disappointment I decided to get to the next metro station. Metro stations in Paris look funky by the way. Not all entrances do look the same, but there are some that are designed to mimic plants in nature. In my opinion they look rather spooky and remind me of Tim Burton movies.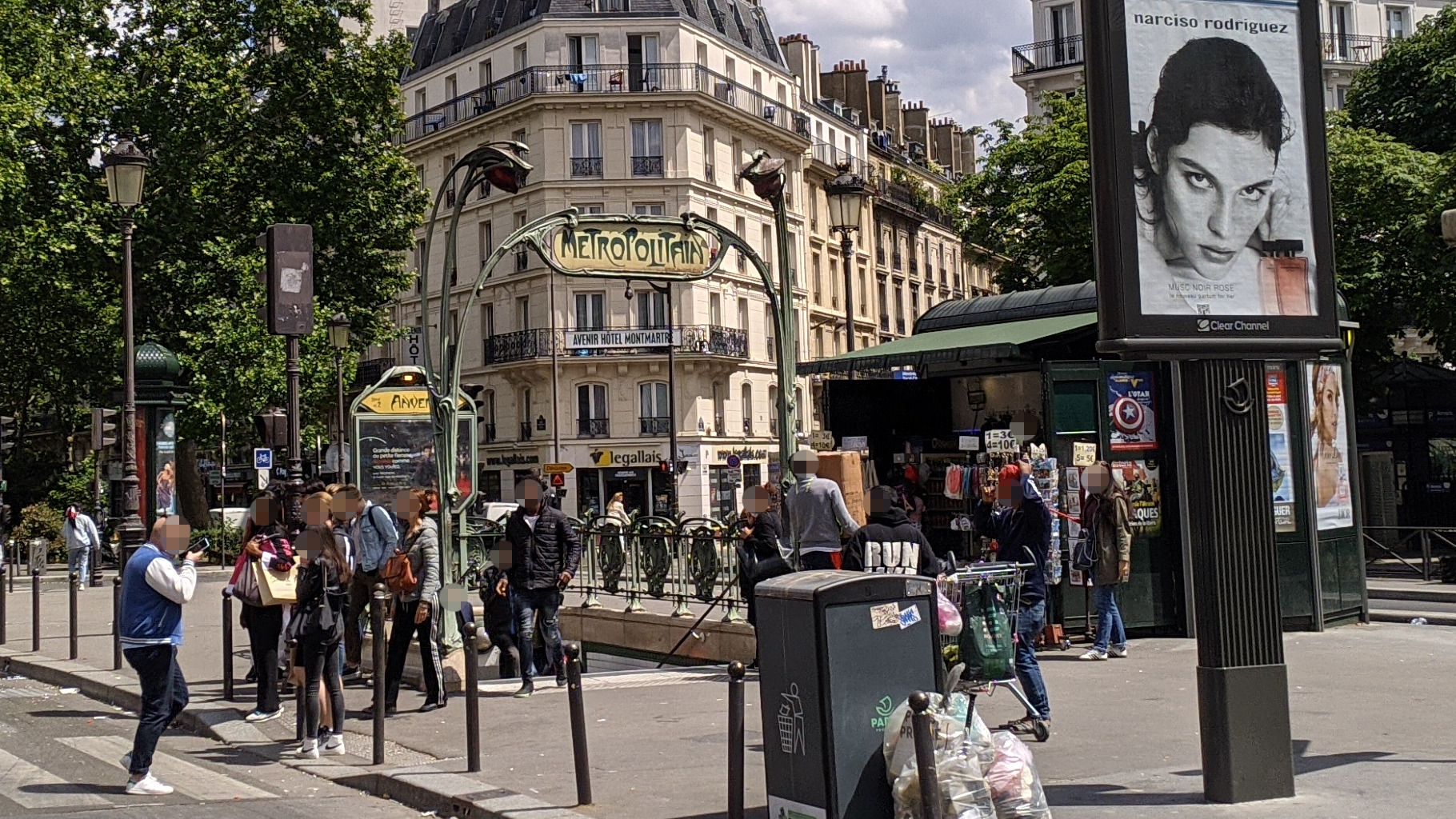 I decided to explore the metro network of Paris for a change. On my way from the train station to the hostel I had come across a station that had been stuck in my head for some time. Station Arts et Métiers has quite some steampunk vibes. To get there, I had to switch lines once, but then I exited at the station.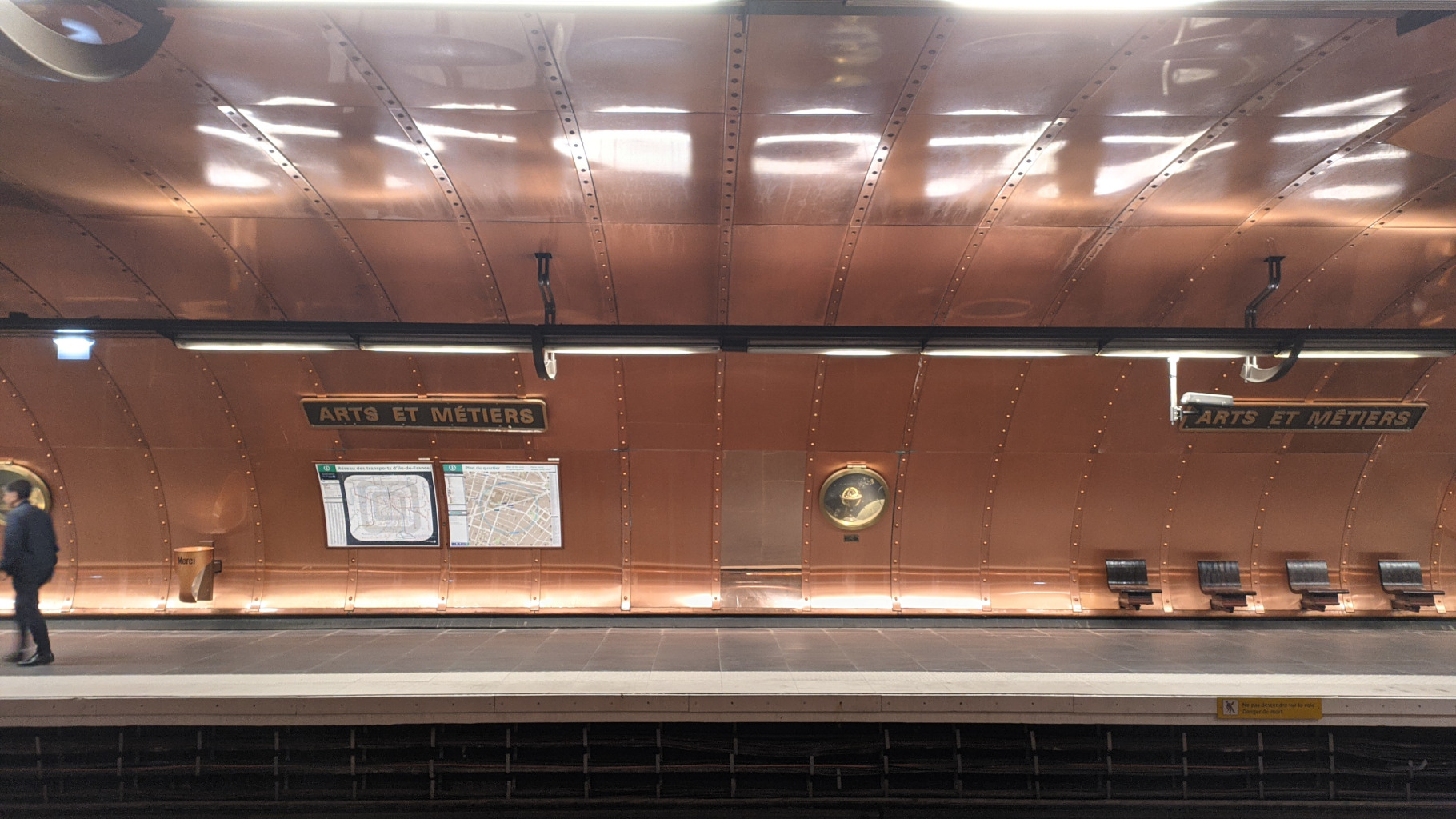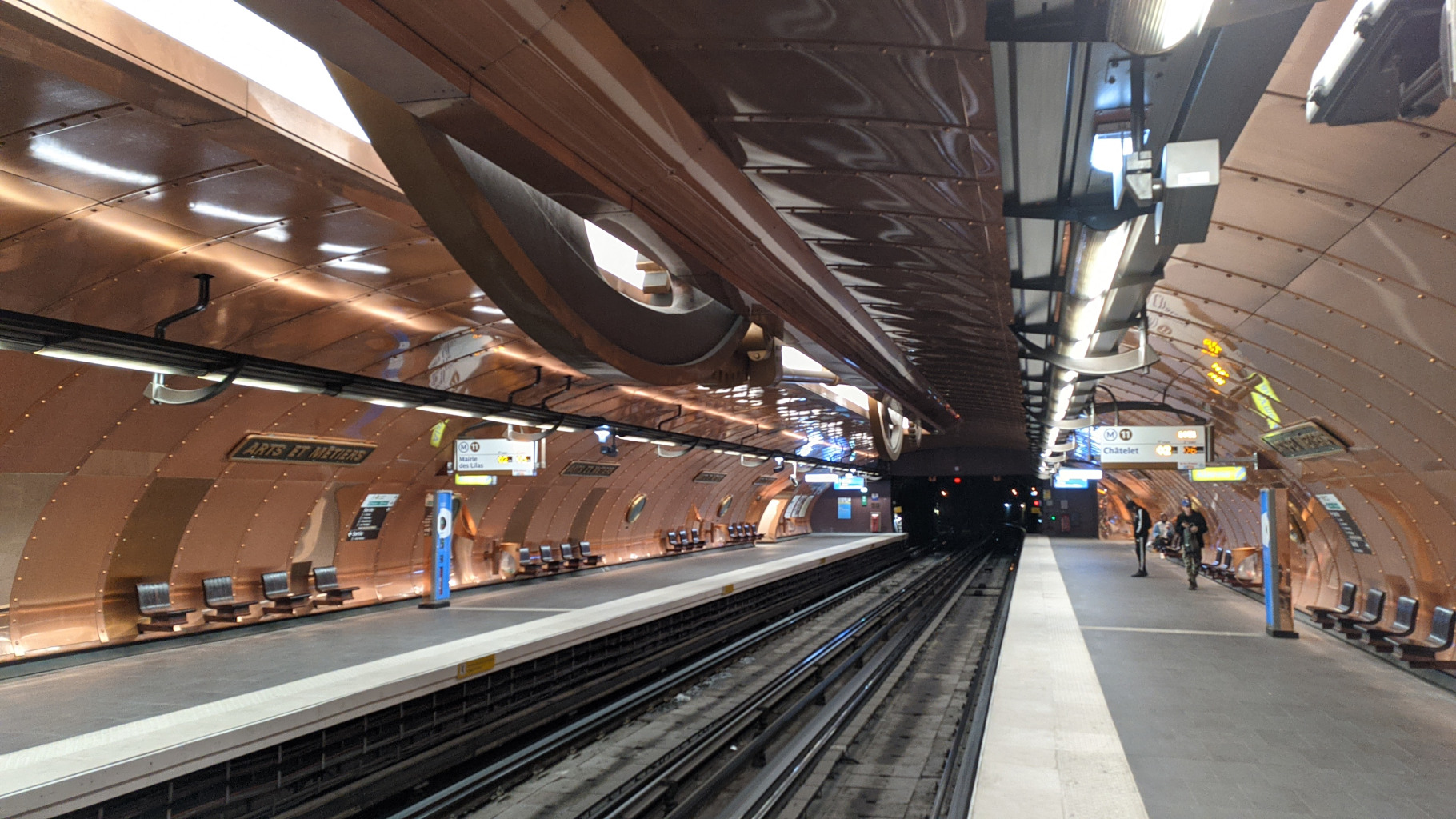 This must have been Jules Verne's favorite metro station! There were signs pointing to the exit that were labelled with "Musée de Arts et Métiers". Oh, interesting, a museum dedicated to crafts and technology. I followed the signs upstairs and found the museum. Unfortunately it was closed on Mondays. A bit disappointed I decided to maybe check it out the next day.
It got really chilly, so I took the metro back to my hostel. There I remembered that someone had recommended me to pay a visit to the Mozilla offices in Paris. I searched for it on OpenStreetMaps and it actually was super close to my place. So I left the hostel again and 10 minutes later I stood in front of the building. From the outside there was not a single sign that this was Mozilla's office. I tried one door, but it was locked. In another part of the building I found a door that opened up to a hall with a small reception desk and some guards.
Asking whether I could visit Mozilla turned out a bit complicated, as the guards only could speak very little English and I only very little French. Luckily there was an electrician who could translate. A bit of confusion later one of the guards offered to escort me to the office. Apparently Mozilla does not have regular visitors, as the guard did not know where the office was either. It turned out he spoke German however, so at least I could explain my endeavor a bit better now.
After not finding any signs of Mozilla in the first half of the building, we went to the door that I had tried before and the guard let me in. We drove the elevator up and voila, there were Mozilla signs on the walls. However, unfortunately nobody answered our ringing (it was probably already after closing time) and there was a sign that stated that no non-essential visitors were allowed during the pandemic. So we left the building again and I thanked the guards for their efforts.
The Mozilla wiki said that you could also message Mozilla staff in an IRC channel, however they recently transitioned to matrix and apparently did not yet update the wiki page. I briefly tried to search for a chat room related to the Paris office, but my matrix server kept timing out. Oh you brave, shiny, new and terribly inefficient technology keep to amaze me every time 😉
Back in the hostel I watched some videos and tried to kill some time. My plan was to visit the Eiffel Tower at night to check out the famous light installation. So when the sun started to go down, I once again left for the metro. Arriving at the Eiffel Tower I searched for a grocery store to get some affordable beers. My first address was already closed, while the next closest store was in the process to do so. I quickly hopped in, grabbed two beers without second thought and went to the checkout. Then I walked back to the Eiffel Tower.
During my first visit I had only checked out the summit and then left by crossing the Seine, so I had not seen the large grass area which people used to sit on. This time I wanted to sit down there to get the full experience. I found a nice spot with a hedge to lean against and sat down.
On the other side of the hedge were 2 violinists that played to some pop culture songs from a loudspeaker. I wish they had not. At least one of them was probably very new to playing the violin and was constantly at least 2 full notes off. It sounded horrible, bit I also enjoyed listening to them for some strange reason. It was also interesting to see that some people also unironically seemed to enjoy their playing.
And then the Eiffel Tower started glowing. It was a warm orange-ish light and looked quite pretty against the dawning sky.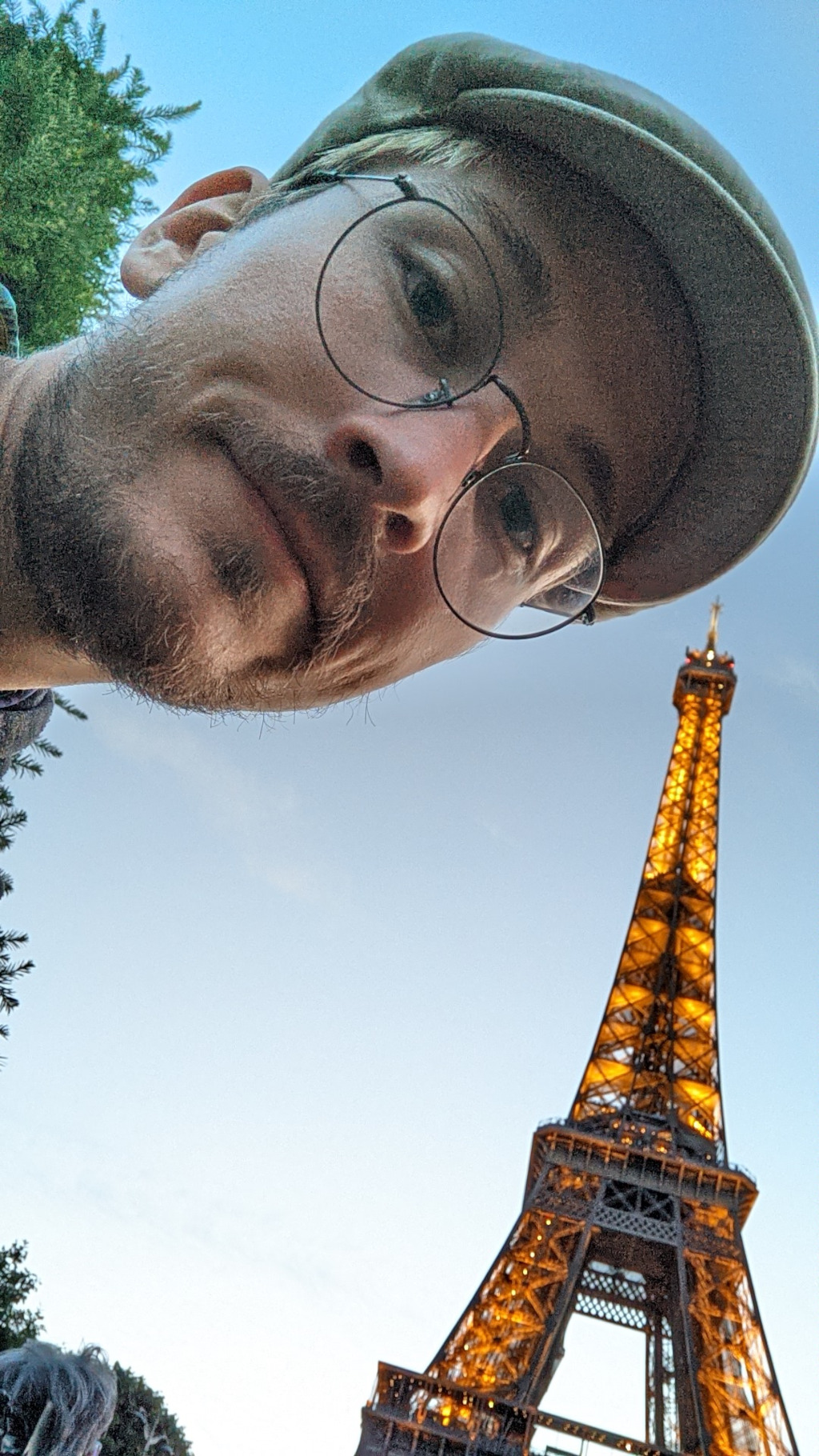 As you can see on my grainy face, my camera did its best to lighten up the photo, so just imagine the sky being more of a dark blue :D.
I had heard stories of it being illegal to photograph the light installation of the Eiffel Tower due to copyright issues, but apparently this is only true for professionals. So I guess to be on the safe side of things I need to make some kind of very inappropriate joke now to disqualify from this category.
Police in Paris have finally caught the elusive mime known for masturbating in public and harassing tourists.
In a statement, Police Chief claims "he came quietly".

I'm sorry. Joke from upjoke.com
And so I sat there, amongst a crowd of other tourists, drinking random French beer, listening to off-key violins and watching the Eiffel Tower. This was my second last night in Paris. It was only now that I realized that this adventure would be over soon. In some sense I was looking forward to get home again, being able to sleep in my own bed again. Not having to worry about sleepless nights due to loud snoring. But this will surely not be my last travel adventure, so I'm not sad that this trip will come to an end.
At some point the light show on the tower changed to a twinkling sparkle, accompanied by an outcry of awe from the crowd. I enjoyed the spectacle for a few more minutes and then went home to the hostel again. And so another day in Paris came to an end.